Into The Forest
(2016)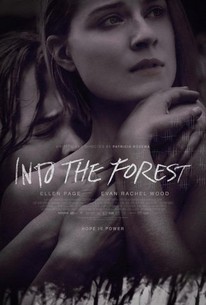 TOMATOMETER
AUDIENCE SCORE
Critic Consensus: Into the Forest grounds its familiar apocalyptic framework with a relatable look at the bond between two sisters, compellingly brought to life by Elliot Page and Evan Rachel Wood.
Movie Info
A worldwide power outage sends the globe toward the brink of apocalypse, forcing two sisters living in their isolated house in the Canadian woods to adapt to their new reality and fight for survival in this stirring end-of-the-world thriller.
News & Interviews for Into The Forest
Critic Reviews for Into The Forest
Audience Reviews for Into The Forest
½
Ellen Page and Evan Rachel Wood are great, and up to a certain point this seems like a very mature film about sisterhood (despite a few silly elements such as a book that contains all of the world's knowledge) - until it is almost ruined by an incredibly stupid ending.
Carlos Magalhães
Super Reviewer
½
I don't think it's been any secret, at least to any one who knows me, that I was not a big fan of Frozen. I know this is gonna look bad because I did, in fact, give Frozen a good score and I even went on to say that I thought it was a good movie. But, let's be real here, Frozen is a good movie that should've been amazing. It was held back entirely by the fact that it was concentrated on being a stupid musical first instead of telling a great story between the bond and love between the two sisters at the center of Frozen. I'm not saying that this is what Frozen should have been like, given the fact that this is a much serious movie, but it does far more with its ideas of sisterly love and devotion than Frozen could ever have imagined. The film, really, is very simple. It tells the story of two sisters struggling to survive after a continent-wide power outage pretty much destroys civilization as we know it. Not in a cataclysmic way, of course. It's more of a we don't have power, no internet, no phones, no gas, that sort of stuff. The movie doesn't really have much of a conventional narrative. There's no real endgame that seeds are planted for early in the beginning. There's none of that and, to me, that's why I believe audience scores weren't as positive. But I'm not ruling out that people thought this was gonna be a Walking Dead-esque movie about the apocalypse. Not necessarily with the zombies, but certainly more along those lines. A dangerous world where you face a thousand ways to die every second of every day. This isn't that movie and you shouldn't go in expecting any of that, because of your preconceived idea of what a movie about the apocalypse should be. This focuses more on the human element, which manifests itself in seeing how these two sisters deal with this massive power outage. Is it what I would call a great movie? Not necessarily, but it's a damn good one regardless. One that completely relies on the performances of Ellen Page and Evan Rachel Wood. And, to their credit, both women are pretty phenomenal in this movie. Both Evan and Ellen give some of their career best performances. And the movie definitely needed those performances. I say that because, out of the gate, Ellen and Evan do not look like they could ever be sisters. I mean it makes sense in this universe, since the mother was a brunette and the father was blonde with blue eyes, but those two just don't feel like they could be sisters in a movie. Well, thankfully enough, their performances were so great that they definitely made it feel like they were sisters and that they would do absolutely anything for each other. And that's what the movie is all about. While it's obvious that this about a sisterly bond, the themes the movie explores really are kind of universal. It's about the things we do for the ones we love. I can relate to that and I'm a man without siblings. That's what the narrative is about, really. It's not about Eva and Nellie finding a new place to live, it's not about fighting back against mobs of the undead or violent humans. It's about their bond. And, ultimately, it is also about new beginnings. The way the movie gets to that is interesting, to say the least, but I feel it works in the long run. This is not gonna be everybody's cup of tea, but I thought it was a damn good movie with some excellent performances that should be seen. I wouldn't fully recommend it, because it's not the type of movie that's easy to digest, but I thought it was damn good and that's all that matters to me.
Jesse Ortega
Super Reviewer
½
This was certainly the goriest Lifetime Network original movie to date. The film centers on two sisters who are faced with the daunting task of surviving a massive power grid failure in the Pacific Northwest. It is set in the remote future for no essential reason; I guess so they could max out their visual effects budget in the first five minutes of the film. Evan Rachel Wood and Ellen Page face most major forms of trauma throughout the film, and it is easy to feel their pain, but difficult to excuse their laziness in such a dire state. It seriously takes them half a year to go out and search for berries, and another year before they even broach the topic of hunting wild game. Whoever built their house should have been shot because it only takes a year and a half for the structure to completely deteriorate from rain (the most common weather condition in that area of the world). Also, Ellen Page desperately says "Eva" around 70 times throughout the film - that evidently substitutes for acting concerned. Aside from these frustrating details, the acting isn't completely terrible, and it gets better as the film moves along. That and a sick tension all throughout the film make it worth watching. However, as much as it explores some deeper feminist themes, I don't see much strength in these ladies, just a mopey drive to survive. Needless to say, I was somewhat disappointed in this lackluster reboot of Sondheim and Lapine's hit Broadway musical.
K Nife Churchkey
Super Reviewer
Into The Forest Quotes
There are no approved quotes yet for this movie.