Into the Wild
(2007)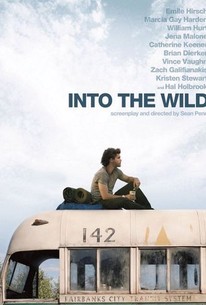 TOMATOMETER
AUDIENCE SCORE
Critic Consensus: With his sturdy cast and confident direction, Sean Penn has turned a complex work of non-fiction like Into the Wild into an accessible and poignant character study.
Movie Info
Freshly graduated from college with a promising future ahead, 22 year-old Christopher McCandless instead walked out of his privileged life and into the wild in search of adventure. What happened to him on the way transformed this young wanderer into an enduring symbol for countless people. Was Christopher McCandless a heroic adventurer or a naïve idealist, a rebellious 1990s Thoreau or another lost American son, a fearless risk-taker or a tragic figure who wrestled with the precarious balance between man and nature? McCandless' quest took him from the wheat fields of South Dakota to a renegade trip down the Colorado River to the non-conformists' refuge of Slab City, California, and beyond. Along the way, he encountered a series of colorful characters at the very edges of American society who shaped his understanding of life and whose lives he, in turn, changed. In the end, he tested himself by heading alone into the wilds of the great North, where everything he had seen and learned and felt came to a head in ways he never could have expected.
News & Interviews for Into the Wild
Critic Reviews for Into the Wild
Audience Reviews for Into the Wild
Christopher McCandless: The core of mans' spirit comes from new experiences. "Go with your heart." Into the Wild is one of those movies that has so much heart at the core of its story. It's a story of following a path that you choose for yourself and not the one that society tries to dictate for you. It's the story of Christopher McCandless and a true one at that. The film is beautiful and just pure joy to watch. I love these type of movies where we follow an interesting man on a journey. The journey in this one is pretty epic too. It takes us from South Dakota to Arizona, from Mexico to Alaska. Along the way we meet hippies, a beautiful girl that falls for Chris, and an old man that learns to love Chris as his own grandchild.  Chris, after graduating from college, decides to give all his money to charity, abandon his car and his family, and go out into the wild. He believe that careers are a 20th century invention and he wants no part of that world, and to be honest, I have those same thoughts. This is a story that I believe is extremely important. This is a Sean Penn directed film and probably the best movie he's ever made. The Pledge was another really good one from him, and The Crossing Guard and The Indian Runner were okay, but nothing like this. The cast is very good as well to go along with Penn's great directing. Emile Hirsch plays Chris and does an extraordinary job. Then there's a supporting cast that includes: Hal Holbrook, Catherine Keener, Jena Malone, and Kristen Stewart. Into the Wild is a must see film and one of my personal favorites. I could watch this movie over and over again, and have as much passion for the story as I did the first time. This should definitely be on the list of films that you need to see before you die, because if you don't, you're certainly missing out on a full blown masterpiece.
Melvin White
Super Reviewer
½
"Into the Wild" is an exercise in teen angst and disillusionment put onto film - which is to say, earnest in its intentions, loud and blunt in its execution, and not particularly smart. Its likely beloved because it mirrors certain relatable adolescent emotions with such obviousness that any jaded teenager can understand it, wrapped in a story that is taken to its extreme. I'm all for a movie that wants to reach a wide audience, perhaps an entire generation, but "Into The Wild" is the epitome of hitting audiences over the head. As such, despite inclusions of talented cast members like Hal Holbrook and the steady direction of Sean Penn, I couldn't help but feel a little frustrated by the immaturity of the story and the main character. Emile Hirsch plays Christopher McCandless like the boy (not man) probably was in real life - confused, selfish, and stubborn. These are teenage traits to be sure, traits that end up dangerously if they aren't grown out of, demonstrated perfectly by the film. Yet the script seems to suppose we should idolize McCandless for his childish ignorance. He did so much wrong, but I suppose because this is a true story, the writers of the book and film decided that they would treat him with the utmost respect and not question his obviously foolish course of action. But a movie like "127 Hours" shows that a movie that calls the victim out in order to warn the audience of repeating such misguided acts can be rich, effective, and yet respectful to the subject in question. Instead, "Into The Wild" wastes its hugely unnecessary two and a half hour run time praising McCandless, and when it isn't doing that, its likely prancing around goofy characters that range from talented (Catherine Keener) to eye-roll worthy (Kristen Stewart, who bites her lower lip immediately upon entering the scene). And all of these episodes usually end with McCandless not learning anything from them, and usually leaving them without saying goodbye, without doing anything that remotely helps them or teaches anyone anything. Here we see a microcosm for whiny teenage immaturity (dare I also say pretentiousness), which masquerades as some sort of righteous cynicism. The kind of thought processes that clearly, if you watch the movie until the end, should not be replicated or encouraged. So what, then, is the purpose of "Into The Wild" if we're asked to cheer on a childish fool the entire time? I certainly believe the film has a purpose, and deserves to exist, but I'm inclined to say the love people have for this movie is highly indicative of a generation of social media-induced self-indulgence and self-righteousness. In other words, "Into The Wild" serves the same kind of purpose "Project X" serves - to shine a light on what is largely wrong with how today's youth thinks - though admittedly "Into The Wild" at least attempts to maintain a sense of classiness, even if it is ultimately a facade.
Sam Barnett
Super Reviewer
Firstly, if anyone is considering seeing this film please just watch it NOW, and read nothing more on it. There are mainstream reviews out there by great critics which have massive spoilers. Avoid them. Secondly, please watch the film. Rarely have I seen anything so earnest, so uncynical. It is not a film that simply sits back a watches it subject, but is totally part of it, enhanced by its ideas. Beautiful, intelligent, heartbreaking. A great film.
Louis Rogers
Super Reviewer
Into the Wild Quotes
| | |
| --- | --- |
| Christopher McCandless: | Strong. You can do anything. You can go anywhere. Money, power is an illusion. It's up here. You can be here. Me and you. |
| | |
| --- | --- |
| Ron Franz: | I'm going to miss you when you go. |
| Christopher McCandless: | I will miss you too, but you are wrong if you think that the joy of life comes principally from the joy of human relationships. God's place is all around us, it is in everything and in anything we can experience. People just need to change the way they look at things. |
| | |
| --- | --- |
| Christopher McCandless: | If we admit that human life can be ruled by reason, then all possibility of life is destroyed. |
| | |
| --- | --- |
| Christopher McCandless: | Some people feel like they don't deserve love. They walk away quietly into empty spaces, trying to close the gaps of the past. |