Into the Woods
(2014)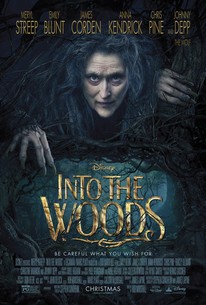 TOMATOMETER
AUDIENCE SCORE
Critic Consensus: On the whole, this Disney adaptation of the Sondheim classic sits comfortably at the corner of Hollywood and Broadway -- even if it darkens to its detriment in the final act.
Movie Info
"Into the Woods" is a modern twist on several of the beloved Brothers Grimm fairy tales, intertwining the plots of a few choice stories and exploring the consequences of the characters' wishes and quests. This humorous and heartfelt musical follows the classic tales of Cinderella (Anna Kendrick), Little Red Riding Hood (Lilla Crawford), Jack and the Beanstalk (Daniel Huttlestone), and Rapunzel (MacKenzie Mauzy)-all tied together by an original story involving a baker and his wife (James Corden & Emily Blunt), their wish to begin a family and their interaction with the witch (Meryl Streep) who has put a curse on them. (C) Disney
News & Interviews for Into the Woods
Critic Reviews for Into the Woods
Audience Reviews for Into the Woods
½
Rob Marshall's Into the Woods goes in, then manages to get lost. The integration of characters from multiple fairy tales is an intriguing concept and while the film starts off in amusing fashion, it loses its moxie. The jumps between characters and story arcs is mediocre at best, while plot details are lacking as the story pushes forward in time to get through its tale in 2 hours. The film's content is also more mature and dark than a family friendly atmosphere. A PG rating is too generous. 80-90% is singing. Even when musical numbers are not taking place, character dialogue is being sung. Fortunately, there are some catchy tunes that sink into the brain, but there are equally as much tiresome vocals exiting the speakers. The female leads are the highlight. Meryl Streep, Emily Blunt, and Anna Kendrick liven the picture, when the blandness of James Corden and Chris Pine step on the stage. Into the Woods has some journey-full moments; just not enough to make it an exciting trek into the woods.
½
Sondheim and Lapine's dark and twisted musical retelling of fairy tales gets a fairly faithful, albeit PG adaptation. I, of course, have no big problem with this because I always found the massive stage musical a bit of a massive letdown after Act I, especially with the Baker's Wife getting killed off after she has sex like some horror movie trope. The sex and death are toned down, which actually evens out the story better, but the demise of the Witch and the reveal of the Mysterious Man/Big Bad Wolf/Baker's Father are anticlimactic and nonexistent, respectively. All the performers give such impressive turns that I feel like I have to comment on every one of them because it's really a well-cast ensemble. Emily Blunt is the definite stand-out, being probably the only one of the cast who consistently acted intentions while singing, making the Baker's Wife a funnier character than I previously thought with her charmingly flushed comic relief. Anna Kendrick is, as usual, a musical dynamo with her high and bright Broadway-rafters voice, and Chris Pine and Billy Magnussen steal the show in "Agony" with their princely posturing. Tracey Ullman plays Jack's Mother with cantankerous mettle, and James Corden is quite plucky as the hapless Baker. Tammy Blanchard, Lucy Punch, and Christine Baranski also make a nasty and daffy step-trio. Mackenzie Mauzy as Rapunzel is actually given more to do here than she is given as the good-woman mother on "Forever." I'm not a fan of the children's songs or characters, but Lilla Crawford has some pipes and decent comic timing, while Gavroche kid enunciates too oddly for my taste. Meryl Streep is a trifle slow with the "greens" tongue twisters, and while she does belt some meaty notes later, I'm not sure how much of her vibrato was added in post-production. I didn't think that voice came out of the same woman who did "Mamma Mia"...
Alice Shen
Super Reviewer
"Into the Woods" is Disney's latest attempt in trying to retain the creative rights to all known fairy tales. Already a powerhouse, and the main supplier of modern tales of magic and winsome beauties, Disney has adapted this more adult musical about intertwined Grimm fairytales. Based on the 1986 stage show of the same name, this film is packed with huge sets, punchy songs, and a cast of enigmatic performers. Even with its hugeness, its vision, and great subtlety, it is definitely not the original musical. Read more at http://www.bluefairyblog.com/blog/2015/4/1/into-the-woods
Spencer S.
Super Reviewer
Into the Woods Quotes
| | |
| --- | --- |
| Cinderella: | I wish.......... |
| | |
| --- | --- |
| Red Riding Hood: | But Mother warned me never to stray from the path! |
| Baker: | The path has strayed from you. |
| | |
| --- | --- |
| Baker's Wife: | You've changed. You're daring. You're different in the woods. |
| | |
| --- | --- |
| The Witch: | It's the last midnight, it's the last wish, it's the last midnight soon it will be boom squish. |