Intruders
(2016)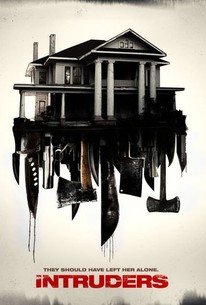 Movie Info
An agoraphobe (Beth Riesgraf) must battle a home invasion without leaving the confines of her house.
News & Interviews for Intruders
Critic Reviews for Intruders
Audience Reviews for Intruders
½
I don't really know what to make of this movie. Because I thought it did a good job at keeping things interesting in that you never actually know where the film is headed. At first, the film comes across like a regular home invasion thriller with the small little twist that our main character, Anna, suffers from agoraphobia and she has not left the house in over 10 years. That's an interesting concept in and of itself, but one that, admittedly, didn't really have a lot of mileage. What I mean by that is that you can only use her agoraphobia the first time she tries to leave the house and that's pretty much it. Though I guess you could've done something with that and how her only real escape is the one thing she's terrified of the most. But that's neither here nor there, because the film moves on to something else. It comes out that Anna is a little more resourceful than she comes across at first. Essentially, the film is about the hunters becoming the hunted. And I really liked that, because it, again, keeps you guessing. The film isn't as straightforward as it sounds, it's definitely got a lot on its mind. Essentially, Anna and her recently deceased brother, have set up this 'torture' chamber that they used to capture and keep known pedophiles in to give them a chance to redeem themselves for their actions by killing themselves. This is done as a result of Anna being sexually abused by her father, so that was interesting to see. Again, it's one of the ways the film keeps you on your toes. With that said, however, I just don't feel all of these elements come together to make a good movie. I don't really know why, but there was just something missing from this movie. It's got all the pieces to make a good and interesting horror movie, but it's just not. It's a slightly better than average movie, this is one of those that would benefit from quarter ratings. The acting is pretty solid all things considered. It's not like there's amazing work from anybody in this movie, but the acting is, at the very least, solid and adds some quality to the film. The story is interesting and I do like how the climax of it plays out, it's not a traditional climax. Well, at least at first. There's a little twist, but then things end up in the way one would expect, which is probably the only instance where they play it safe. I don't really have much else to say about this movie, it's got a really cool concept and some interesting ideas, but this still doesn't end up being more than just an above average flick. Can't really recommend it, but I think horror fans might like some of what this brings to the table, even if it doesn't add up to a good movie.
Jesse Ortega
Super Reviewer
Intruders Quotes
There are no approved quotes yet for this movie.