Invasion of the Bee Girls
(1973)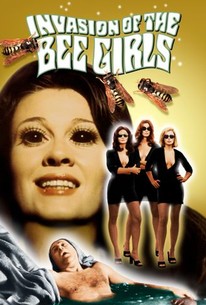 Movie Info
In the small town of Peckham, California, many men die for excessive effort during sexual intercourse. When a scientist from the Brandt research laboratory is found dead in a motel, the government sends Agent Neil Agar (William Smith) to investigate the mysterious deaths. He suspects that the deaths may be related to some experiments of Dr. Susan Harris (Anitra Ford), who is researching bees in the Brandt facility.
Critic Reviews for Invasion of the Bee Girls
All Critics (8) | Top Critics (1) | Fresh (4) | Rotten (4)
What salvages this somewhat unlikely plot is the movie's sense of style.

Admit it. You want some good ole' fashioned cheesy fun. Invasion of the Bee Girls delivers.
The guiltiest of guilty pleasures; campy sci-fi soft core that will have you rolling with laughter.
August 30, 2002 | Rating: 3/5
Audience Reviews for Invasion of the Bee Girls
If you like your soft porn exploitation with a touch of female domination, then look no further, as wacky modern day science enables some of the fairer sex the capability to love you until you die. None of the "victims" look too unhappy, though everyone else is shocked. Schlock cinema for those elitist college types among you.
Kevin M. Williams
Super Reviewer
This was in the Mill Creek 50 Drive In Movie Package. Don't think this ever played at the Drive in Back home. Mom Dad How come I can't go. Well on to the Movie, seems these girls are killing men by having sex with them till they die. ( I should be so lucky). Sheriff tries to but putting Marshall Law in effect where no one can have sex, fat chance. Anyway The Movies has some nice Nudity ( Sorry girls no guys) but hey no kids. I think they should have name this watch out for gal's with Dark Glasses, How it came up with aka Graveyard Tramps is beyond me. Anyway I have no choice its in the collection.
Bruce Bruce
Super Reviewer
This was a hoot and a holler of an exploitation flick. The guys can't keep their paws off of the women and the women can't help but kill the guys...and harvest them for their queen. Filled lots of bad dialogue, boobs, some brief girl-on-girl action and a plot that could only be hatched for a late night drive-in audience, this is one to stick on and have a blast with.
Tim Salmons
Super Reviewer
Invasion of the Bee Girls Quotes
There are no approved quotes yet for this movie.