The Invention of Lying
(2009)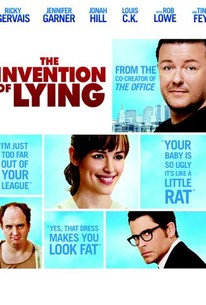 TOMATOMETER
AUDIENCE SCORE
Critic Consensus: It doesn't quite follow through on its promise, and relies too heavily on shopworn romantic comedy tropes, but The Invention of Lying is uncommonly sly and funny.
The Invention of Lying Photos
Movie Info
"The Invention of Lying" takes place in an alternate reality in which lying--even the concept of a lie--does not even exist. Everyone--from politicians to advertisers to the man and woman on the street--speaks the truth and nothing but the truth with no thought of the consequences. But when a down-on-his-luck loser named Mark suddenly develops the ability to lie, he finds that dishonesty has its rewards. In a world where every word is assumed to be the absolute truth, Mark easily lies his way to fame and fortune. But lies have a way of spreading, and Mark begins to realize that things are getting a little out of control when some of his tallest tales are being taken as, well, gospel. With the entire world now hanging on his every word, there is only one thing Mark has not been able to lie his way into: the heart of the woman he loves.
News & Interviews for The Invention of Lying
Critic Reviews for The Invention of Lying
Audience Reviews for The Invention of Lying
½
The kind of great idea with a rather dumb execution - much like an SNL sketch stretched for two hours and full of hits and misses - and it could have been so much better had they only come up with a more convincing reality and taken the satire all the way to mock our cultural values.
Carlos Magalhães
Super Reviewer
½
In a world where everyone tells the truth (even when unprovoked - a nit at which this and many other reviewers have picked), Mark Bellison discovers that he can lie and uses that superpower for good...for the most part. The love story arc of Anna figuring out what she wants in a mate is well-paced with a nice moment of her defending the chubby kid who got ice cream smashed in his face by the better-gened kids. Mark's weepy moment of describing a Kindergartener's conception of Heaven to his frightened, dying mother is lovely, but the rest of his Christian scripture is a bit slapstick, and I was disappointed that the movie didn't make more of a comment on spiritual solace, the truth and lies of religion, and Truth's partner: Consequences. Ricky Gervais does his cheeky hosting bit in the proselytizing scenes, but he actually gets rather endearing and emotional throughout the movie. I do love seeing PSH in oafish comedic roles, and I'm digging Louis C.K.'s Above Average Schmo schtick more and more. Jennifer Garner is also requisitely frosty and vapid, then tender and sweet. I especially dig Anna's deleted scene monologue of her appeal, which says so much about real-life Millennial women, female romantic leads in movies, and Anna's own character who just comes off as flatly bitchy at first: "In fact, there are very few things in life I care that much about. The only things I have to offer myself, or anyone else are my good looks and my affected sense of quirkiness which artistically inclined men interpret as intellect. I think my best trait is the fact that I've made very few mistakes. Socially, academically, financially, romantically. I take very few risks and therefore lead a relatively happy, light-hearted existence. Mostly though, I am a kind, sweet person with the potential of genuinely becoming a vital and interesting human being the day I take the energy I expend on hyper-self-reflexivity and apply it to actual action in the reality of my life."
Alice Shen
Super Reviewer
½
Amusing if not exceptional comedy, Gervais has yet to make a movie that is anywhere near as enjoyable or original as one of his many TV shows.
Stuart Brooks
Super Reviewer
The Invention of Lying Quotes
| | |
| --- | --- |
| Mark Bellison: | The world is going to end unless we have sex right now. |
| | |
| --- | --- |
| Greg: | If I could do anything? Anything at all? I would touch a girl's boobs. |
| Greg: | If I could do anything? Anything at all? I would touch a girl's boobs. |
| | |
| --- | --- |
| Bob: | Hi, I'm Bob I'm the spokesperson for the Coca-Cola company. I'm here today to ask you to continue buying coke. Sure it's a drink you've been drinking for years, and if you still enjoy it, I'd like to remind you to buy it again sometime soon. It's basically just brown sugar water, we haven't changed the ingredients much lately, so there's nothing new I can tell you about that. We changed the can around a little bit though. See, the colors here are different there, and we added a polar bear so the kids like us. Coke is very high in sugar and like any high calorie soda it can lead to obesity in children and adults who don't sustain a very healthy diet. So that's it, it's coke. It's very famous, everyone knows it. I'm Bob, I work for coke, and I'm asking you to not stop buying coke. That's all.It's a bit sweet. Thank you. Share this quote |
| | |
| --- | --- |
| Brad Kessler: | We both know that one day you're going to lose your looks. |