The Invisible Man Returns
(1940)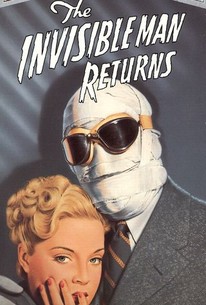 The Invisible Man Returns Photos
Movie Info
This semi-sequel to The Invisible Man stars Vincent Price in the title role. Condemned for a murder he did not commit, Price begs doctor John Sutton to inject him with an invisibility serum. Sutton does so, even though he warns Price that the serum will very likely drive him insane.
Critic Reviews for The Invisible Man Returns
Audience Reviews for The Invisible Man Returns
The Invisible Man Returns is a strong follow-up to The Invisible Man. The film is also the best sequel to the original horror classic. Starring Vincent Price as Geoffrey Radcliffe. This is the best sequel of the series, and I thought it was a terrific, well constructed horror film. This film is wonderful because of the acting that Vincent Price displays on-screen. The film boasts stunning special effects, just like the other films. Except, this film has a lot more substance to its material. Vincent Price handles his role very well, and he definitely displays his talents as an actor here. I thought that the story was the best since the original, and it is the only sequel has a tense atmosphere. The Invisible Mann Returns is a tale revenge and romance mixed with horror of course. The film is entertaining, and the cast do a great job in their roles. The Invisible Man Returns is a good entry and is quite entertaining. If you've enjoyed this film, you'll most likely enjoy this sequel. As far as sequels are concerned, The Invisible Man Returns is a good enough sequel, and has a good plot with great special effects and of course the talent of its lead, Vincent Price. I enjoyed this film, and thought it had a great mix of everything that makes a good sequel. The plot is good, and the actors really deliver something special here. This is the best sequel in the series as it's more serious than the other films that came after it. The only sequel that comes close is The Invisible Man's Revenge.
This sequel has a boring sequel story, but it is worth watching for an early performance, mostly voice, from Vincent Price.
½
Vincent Price takes over for Rains as the lead, and in the end, I liked this story a bit better than the original. I agree with what someone else here on Flixster said about this movie being more of a film-noir style mystery than a horror picture. Sutton plays the original invisible man's brother, Dr. Frank Griffin. He understands the danger of the drug since it made his brother go mad, but he gives it to his friend Radcliffe who needs to escape his death sentence. Radcliffe has a better relationship with his fiance and he is well liked by the factory workers who work for him at his mining operation. He's basically a good guy, not a monster, not a villain. True, he does begin to go mad with power, while Dr. Griffin rushes against the clock to find an antidote that will make him visible again. But, Radcliffe uses the madness, the urge to seek revenge, to find who framed him for murder. I like that it doesn't play like a comedy, that it takes itself more seriously, that the invisible man is doing some good by seeking justice. This was made almost seven years later and there are some improvements to the effects. Except I have to make one exception. The wires are visible more often on the props, but this may just be because Universal didn't spend as much time remastering or improving these sequels as the original. I don't know. Still the props are used realistically. And Vincent Price's voice is just as expressive or maybe more so in acting when you can't see him. Oh, and Curt Siodmak contributed to the script on this one.
Byron Brubaker
Super Reviewer
The Invisible Man Returns Quotes
There are no approved quotes yet for this movie.