The Invisible Man's Revenge
(1944)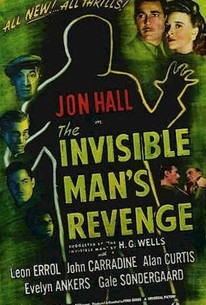 The Invisible Man's Revenge Photos
Movie Info
The fifth in the Invisible Man series stars Jon Hall as Robert Griffin, a convict who takes the invisibility serum and then goes on a crime spree.
Critic Reviews for The Invisible Man's Revenge
Audience Reviews for The Invisible Man's Revenge
Scraping the bottom of the invisible barrel, this Invisible Man sequel recycles several already recycled plots and insanely takes revenge on the unwitting fans. At this point, the special effects BECOME the star of this franchise. Oh, but what a tarnished star! We've already seen the mad scientist serum, Invisible Mans grandson, and convict-exacting-revenge angles, so why not combine them all together into one visibly poor caper? At this late in the stage for the franchise, the suspense proves negligible, as is the shear redundancy of the story. In this unrated continuation of the Universal series, an eccentric scientist (Jon Hall) helps a fugitive from the law become invisible, unwittingly giving him the power to exact revenge on his former friends. Most of the players who helped to secure the 1933 original a classic status are long gone. As it turns out, this is a smart move. Thankfully, Abbott & Costello gave the series one its strongest follow-ups. Otherwise, this Revenge plot would've taken the Invisible Man out of the game on a low note. Bottom line: Jeered Science
Fifth entry in The Invisible Man series is a good final to the series, and if you ask me, it was about time that the ended the series before the ideas were scrapping the bottom of the barrel, which was almost the case. This fifth entry is a good enough final to the series and has a good cast of actors in the film. At about this point in the series, you can see that the film was struggling at delivering a good plot, because well, after four sequels, how many good ideas are left? However, they managed to turn out the best entry since the second film. For a fourth film, The Invisible Man's Revenge goes back to more of its horror roots that was displayed in the first and second film, and was very toned down in nature for the third and fourth parts. As far as the film goes, this is good final film in the series, and it's a good thing that they didn't make any more films as they would have clearly run out of ideas, and it almost was the case. The Invisible Man's Revenge is a good horror film and the actors are good. The story is quite engaging as well, and it is a fine end to a legendary series. As usual the highlight of the film is the stunning use of effects to create the invisible man. This may not be a perfect film, but for what it is, it's an entertaining film worth watching. Like I said, the effects are stunning, and the story is good enough to entertain, just don't expect a terrific final. Good, but not great.
Finally, one invisible man sequel that is a legit suspenseful horror pic. Very early on I was fooled into thinking that Jon Hall was portraying the same character from the Invisible Agent who a couple years later is now seeing the effects of madness consume him. If only, there was some consistency between any of the sequels. But no! This time he plays Robert Griffin who evidently doesn't have any family relation to the Griffins of the earlier movies. I liked that Hall gets to play a darker character after being so sanitized and clean cut in the previous one. Five or so years ago he used to be a world traveling treasure hunter with his friends Irene (Sondergaard) and Jasper (Matthews). On one adventure he was knocked unconscious in a possible accident or a possible murder attempt. He doesn't remember where he's been for several years except that he was struck by something again recently and suddenly recalled the treasure that was supposed to be half his all those years ago. Oh, and plus he's already a homicidal maniac who has escaped from a mental hospital to come to England and settle this score before he's ever introduced to the invisibility procedure. Irene and Jasper determine to keep Robert from taking their fortune and their daughter Julie. Robert is obsessed with Julie, but she thinks he's long dead and is dating a journalist named Foster. Robert eventually finds himself on the doorstep of Dr. Drury (Carradine). Dr. Drury has turned several animals invisible and sees Robert as his chance to test his formula on a human. Robert runs off to force Jasper to sign over his fortune with his knew found power, but then to get Julie he realizes he needs to be visible again. Dr. Drury then quite quickly seems to have found a blood transfusion method of making the invisible visible again. Like in the book this invisible man adopts a slightly goofy cockney assistant (Errol) who provides some humor without being over the top. Well the blood transfusion is only temporary and Robert wants to have control over when he turns invisible or visible and he has a life threatening way to do this. The invisible man is definitely a monster again here and he is a real danger. The bandages are back for a head covering, but when he is invisible you can see an outline of where he is more often than before. And you can see the whites of his eyes in a couple effects mistakes. Still there are yet more improvements in the effects mainly with Robert fading in and out of visibility while moving.
Byron Brubaker
Super Reviewer
The Invisible Man's Revenge Quotes
There are no approved quotes yet for this movie.