Invisible Stripes
(1939)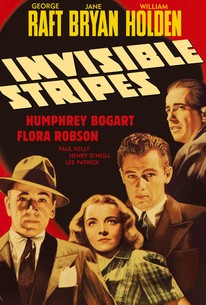 AUDIENCE SCORE
Critic Consensus: No consensus yet.
Movie Info
Invisible Stripes is a cookie-cutter Warners prison drama which rounds up the usual suspects. George Raft and Humphrey Bogart are top-billed, and as is often the case in such a circumstance, it is Raft who is given the larger (albeit less interesting) role. Raft plays Cliff Taylor, an ex-convict who finds that his "invisible stripes" prevent him from getting a decent job. Cliff's younger brother (William Holden) shows unfortunate signs of following his older sibling's footsteps when he is pressured into crime to support himself and his girl friend (Jane Bryan). To save his brother, Cliff joins Humphrey Bogart's gang and earns enough dishonest money to set his brother up in business. But movie censorship prevails, and all of the miscreants in Invisible Stripes--even those motivated by good intentions--must pay the penalty. Side note: The prankish Humphrey Bogart spent so much time needling newcomer William Holden that Holden nearly came to blows with the older actor; the animosity persisted into the Bogart-Holden costarring feature Sabrina, made fourteen years later.
Critic Reviews for Invisible Stripes
Audience Reviews for Invisible Stripes
Raft gives a slightly more animated performance than usual, which means his face actually moves once or twice but his eyes are still empty and dead. But he is supported by a much better cast than he, an unbelievably young William Holden who does fine by his part but is still rather green. Flora Robson and Jane Bryan have thankless parts as the long suffering mother and girlfriend but do okay with them. The real standout is Bogart followed closely by Lee Patrick as his moll they breath life into the picture whenever they are on screen. Bacon's direction is nothing special but he keeps things moving along at a good clip.
½
Invisible Stripes is pretty forgettable. The story starts off misleading you into thinking its going to go off into about 5 other more interesting directions. Then things uncharacteristically come out of left field and leave you just waiting for the end. George Raft is pretty boring and the most interesting thing he's got going in Invisible Stripes is the disturbing relationship with his mother (which incidentally isn't worth watching the movie for) but its nice to see Bogart not play a total bad guy. Its odd to see William Holden this young even if his character doesn't really leave you caring what happens to him. Generally weak with a few moments of charm.
Michael Gildea
Super Reviewer
Good but not great. Typical Warner Brothers Gangster film about 2 guys being released from Sing Sing,one goes straight(Raft) and one goes back to crime(Bogart). One thing that makes this film enjoyable is the young William Holden as Raft's younger brother.Raft has seen the errors of his ways and is forced to go back to crime in a effort to keep his brother out. Another nice surprise is that Bogie isn't your typical bad guy. He is honorable, likable and he never does anything too despicable. This movie is worth seeing for the three heavies, they are great and it's 15 years before Bogie and Holden teamed up for Sabrina.Sadly this film is hampered by the Hayes Code crime does not pay rule.
cody franklin
Super Reviewer
Invisible Stripes Quotes
There are no approved quotes yet for this movie.