Ip Man: The Final Fight
(2013)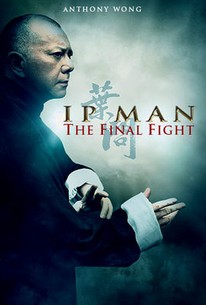 Ip Man: The Final Fight Photos
Movie Info
In postwar Hong Kong, legendary Wing Chun grandmaster Ip Man (Anthony Wong) is reluctantly called into action once more. What begin as simple challenges from rival kung fu styles soon turn deadly, drawing him into the dark and dangerous underworld of the Triads. Now, to defend life and honour, he has no choice but to fight one last time... (c) Well Go USA
News & Interviews for Ip Man: The Final Fight
Critic Reviews for Ip Man: The Final Fight
Audience Reviews for Ip Man: The Final Fight
The last time Herman Yau got to tell Ip Man story we received "The Legend Is Born: Ip Man" which as of to date is the least liked of the Martial Art films based around the fame Wing Chun grandmaster. Now director Yau got another chance with "Ip Man: The Final Fight" while an improvement over his previous Ip Man outing it still fails to say anything significant coming of a basic outline of a man's life. Ip Man: The Final Fight chronicles the life of Wing Chun grandmaster Ip Man in postwar Hong Kong. The plot generalized 18 years of Ip Man life into an hour and forty minute long film meaning strong story content will be in short supply. This is the main issue with the script are it many subplots becoming huge and distorted. It looses focus on exactly whose story to tell as supporting characters at times become our focus. The supporting character aren't developed enough (neither are their arcs for that matter) for us to care about switching back to Ip Man incase it finds itself at a dead end. Now the idea of the influence and interaction Ip Man had with his students if written better and the sole focus would have made a good film in itself. Instead here it's another underdeveloped idea. The events it chooses to explore are also glossed over. At one point it brings up Ip Man possible opium habits, but never explores his addiction. Another being the impact of the death of wife being quickly analyzed and never mentioned again. Ip Man personal experiences are brought up than disappear. The same goes with it glossing over significant events in China during the 1950s and 1960s. It loosely touches upon the 1956 Hong Kong riot and does not bother to even mention the Chinese Civil War. Without a focus or a contained timeline to explore it we an outline instead of a completed script. Anthony Wong plays an aging Ip Man was a natural fit for the part. He brings a different take on the role emoting more emotions and is convincing in his fight scenes never coming off as an actor replicating Wing Chun. The supporting cast while decent doesn't have a stand out among the group. The fight scenes provide enough entertainment to forgive the standard choreography. Most of the fights required the actors (if on the good side) to stay in place while their opponent comes in with an attack for them to counter. The only time it breaks away from this pattern is in the final fight scene easily being the best in the film. It's fluid allowing the actors freedom to move around the set and the choreography is creative enough with it surroundings for a satisfying finale. Sadly these fight scenes don't last long, but enough energy in them to keep you awake. As for the actor who plays Bruce Lee he comes off as a prototypical rich jerk. Ip Man: The Final Fight could be best described as wasted material. The script had potential to touch upon issues that other Ip Man films ignores, but instead glosses over them. The fight scenes while decently choreographed and fluid last to shortly to satisfy those looking for action. For anyone interested in learning about Ip Man final years this film will make a decent outline just don't expect it to cover anything specific all that well.
Caesar Mendez
Super Reviewer
Ip Man: The Final Fight Quotes
There are no approved quotes yet for this movie.