I.Q.
(1994)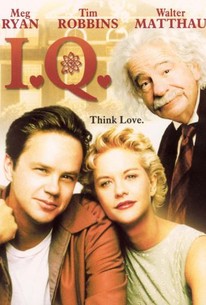 Movie Info
Albert Einstein plays matchmaker in this nostalgically romantic comedy set in the 1950s. Einstein is concerned about his genius niece Catherine's love life. When garage mechanic Ed Walters meets and falls in love with Catherine, Einstein decides he's the right one for Catherine and puts his matchmaking plan into action.
Audience Reviews for I.Q.
½
Cute. Nice sets and costumes.
Bathsheba Monk
Super Reviewer
Tim Salmons
Super Reviewer
½
"I.Q." pits Tim Robbins and Meg Ryan in a fun and witty romantic comedy that is actually pretty good. Catherine (Meg Ryan) is already engaged to a scientist that is smart just like she is. She shows up at Ed's (Tim Robbins) mechanic shop after the car she's riding in has a problem. Ed falls in love with her instantly, but there's one problem, Catherine loves with her brain, not her heart, so she wouldn't ever give a normal everyday guy like Ed a chance. However, there is hope for Ed because Catherine is the niece of Albert Einstein (Walter Matthau) and Mr. Einstein wants Catherine to go out with Ed instead of the guy that she is engaged to. Soon Albert and his colleagues help Ed get to Catherine by turning him into a seem to be genius even though he's not a genius. "I.Q." is witty and it's a good movie to watch. It's plot is interesting and the acting isn't bad either. My only complaint is that it wasn't as funny as I was expecting it to be. Parts of it are funny such as when Albert Einstein and his colleagues help Ed answer some multiple choice questions, but it could've been funnier since it had Walter Matthau and Tim Robbins as two of its main stars. But it's still a good movie and I do recommend it. NOTE: That was my Amazon review from the year 2000. Not a memorable film at all, especially for having the actors it does.
Jason Owens
Super Reviewer
I.Q. Quotes
There are no approved quotes yet for this movie.