Ira and Abby
(2006)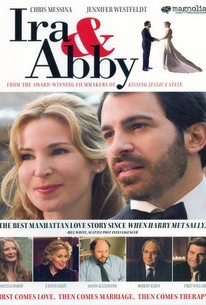 Movie Info
Love at first sight has some interesting repercussions a few months down the line in this offbeat romantic comedy. Ira Black (Chris Messina) is a wildly neurotic thirtysomething who can't get his life in gear -- the son of a pair of therapists, Arlene (Judith Light) and Seymour (Robert Klein), Ira still hasn't finished his grad school dissertation, he's been in therapy for 12 years, and can't bring himself to settle down with his longtime girlfriend Lea (Maddie Corman). When both Lea and his analyst inform Ira that they don't want to see him anymore, he decides he needs to make some changes. Ira joins a health club, where he meets Abby Willoughby (Jennifer Westfeldt), who is supposed to sell memberships to the gym but is much better at listening to people's problems. The two discover they have a strong and immediate rapport, and Ira asks Abby to marry him only a few hours later. Abby says yes, and soon the couple are wed. However, it isn't until after they've been married for a few weeks that Ira discovers Abby has been divorced twice already, and it makes him very uneasy about their relationship. Despite more therapy, Ira asks Abby for a divorce, and it sends shock waves through their families -- Arlene begins having an affair with Michael (Fred Willard), Abby's free-spirited father, while Seymour commiserates with Abby's mother Lynne (Frances Conroy), and eventually parents and children are all meeting together in group therapy for couples. Ira and Abby was written by leading lady Jennifer Westfeldt, who was also screenwriter and star for the independent hit Kissing Jessica Stein. ~ Mark Deming, Rovi
Critic Reviews for Ira and Abby
Audience Reviews for Ira and Abby
½
Another win for Jennifer Westfeldt. In disagreement with friend and Flixster reviewer, Jim Hunter, I think the group therapy session is the most amazing scene in the movie. So many overlapping arguments and grievances aired. I especially love Ira's line that criticizes Abby's penchant for people-pleasing, "It's hard being married to someone who's married to everyone."
Alice Shen
Super Reviewer
A couple quickly falls in love and marries, and then they have to deal with the ramifications. This film is remarkably uneven. It is often jaunty and farcical, but there are moments of true pathos that demand we take the action more seriously than we had been prepared for. There is also great truth in the moments when, for example, Seymour says, "It's impossible to ever truly know anybody." But immediately after we get a ridiculous scene involving everybody's therapists and people carrying on ad infinitum. The primary eponymous story offers some fairly charming moments, but the supporting stories often have little to do with the main action and only distract from the people we want to care about. The performances by Chris Messina and Jennifer Westfeldt (especially Westfeldt) often make their outlandish characters believable, and by the end of the film, I wished I knew them better and got to spend more time in their presence. Overall, there's a lot to like about Ira and Abby, but not much to like about Ira and Abby because the film as whole suffers from too much business and not enough substance.
Jim Hunter
Super Reviewer
½
I'm at least glad to know that somebody is filling in for the psychoneurotic Jewish dilettante while Woody is off parading himself in Europe doing god-knows-what. This movie largely succeeds due to Jennifer Westfeldt, who plays Abby with such au naturale the role seems made for her. The supporting Jewish cast feels like a return home to my favorite genre in the world, so much that I'm willing to forgive Chris Messina for being such a complete jerk.
Jennifer Xu
Super Reviewer
Ira and Abby Quotes
There are no approved quotes yet for this movie.