Iron Eagle II
(1988)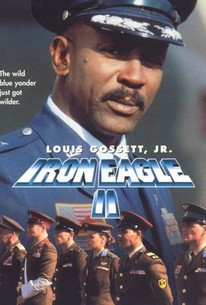 AUDIENCE SCORE
Critic Consensus: No consensus yet.
Movie Info
Chappy (Louis Gossett Jr.) and Cooper (Mark Humphreys) are a duo of Air Force aces slated to fly a joint mission with two Soviet pilots against an unnamed Middle Eastern foe in this low-budget actioner. Cooper does not hide his dislike of his Soviet comrades -- he was the lone survivor of a jet shot down over Soviet air space. He makes things tense for the Soviet pilot Varkovsky (Alan Scarfe), but Cooper does some macho machinations to impress the female flyer Valerie Zuyeniko (Sharon H. Brandon). There is a half-hearted morality message about how no one wins in a war, but this picture doesn't get off the ground until two-thirds of the way through the film. It's just another one of the flyboy flicks cashing in on the success of Top Gun. Still, the producers got more mileage out of the concept with two more sequels after this one. Maybe they've been breathing too many gas fumes.
Critic Reviews for Iron Eagle II
There are no critic reviews yet for Iron Eagle II. Keep checking Rotten Tomatoes for updates!
Audience Reviews for Iron Eagle II
½
Gedrick returns at the start only to be blown out of the sky in an early dogfight but Gossett lives on to play in another mission. This time Gossett must train a small group of ragtag US pilots and a small team of no nonsense Russian pilots. Together they will team up to take out a nuclear warhead base in a diplomatically unnamed Middle Eastern country. The story is actually based very loosely on a real mission also in 1981, that's probably the most interesting part of the film as the rest is pretty dire stuff. Half the film is just the two teams of pilots training and fighting amongst themselves in an almost 'Police Academy' type situation. Gone are the montages accompanied by 80's pop music, this time its a bit more serious and not aimed at very young male kids. We still have the same type of flight sequences which look suspiciously like the same sequences from the first film, or at least filmed at the same time and carried over to this sequel. Everything was shot for real in Israel using Israeli pilots and jets (just like the first film) so is it coincidence that they set the first two films in Israel? money saver seeing as they were there?. Air destruction and ground action utilizes a lot of models again which unfortunately do stand out as models, more so when they are blown up, just like the first film again. Still desperately trying to capitalize on the success of 'Top Gun' but obviously not coming close. This film fails to even better the original as its taken too seriously and is still only TV movie quality at best. They still couldn't resist the rousing Kenny Loggins type music track for the end credits, they really try to make this ice cool.
Phil Hubbs
Super Reviewer
Sequel to the Top Gun rip-off, Iron Eagle, Iron Eagle II is a bad clichéd riddled film that has a poorly written script, poor cast and overall really sloppy direction and little emphasis on quality and excitement. This is pure B movie trash that is lazy in its execution and in the end it's a poor attempt at an action film. I found the original to be decent fun, one of those films that are so bad it's good, however here; there is nothing to suggest to the viewer that this will be a fun, trashy B flick. Oh, it's bad, but not the so bad it's good film you'd like it to be. I really don't see why they made a sequel to Iron Eagle, it's very unnecessary as the first film didn't have anything special going for it. This film is pointless and is just a waste of time. Don't watch it, as you find a shroud of originality here. The ideas become more ridiculous, and the performances are laughable, even by this series standards. Watch the original instead, it wasn't much, but it was a campy, entertaining decent action film that didn't need a sequel. The writers here try to make something that might look exciting on paper, but when the result is displayed on-screen, it's laughable and pointless from start to finish. The action is bland as well as the acting. If you enjoy low budget B films, you may enjoy this, but to others, this will be an awful let down. Definitely not worth seeing. Stick with the first one, which was definitely not great, but it did manage to provide cheesy camp value.
Ridiculous sequel to the preposterous original.
Dean McKenna
Super Reviewer
Iron Eagle II Quotes
There are no approved quotes yet for this movie.