Iron Eagle IV (Iron Eagle on the Attack)
(1995)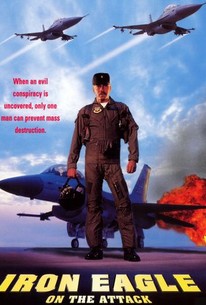 AUDIENCE SCORE
Critic Consensus: No consensus yet.
Iron Eagle IV (Iron Eagle on the Attack) Photos
Movie Info
Retired Air Force General Charles Sinclair's life is in a tail-spin. He is forced to head a training center for juvenile delinquents. After Sinclair uncovers an Air Force conspiracy, he and his young fliers decide to take on the Air Force -- and some major drug dealers while they're at it.
Critic Reviews for Iron Eagle IV (Iron Eagle on the Attack)
There are no critic reviews yet for Iron Eagle IV (Iron Eagle on the Attack). Keep checking Rotten Tomatoes for updates!
Audience Reviews for Iron Eagle IV (Iron Eagle on the Attack)
For some reason Louis Gossett Jr returns yet again for the fourth film in this very average franchise. This time he is now a retired flight instructor for delinquent youths, why do young criminals get to learn to fly for their crimes?. Easily the worst film out of the four if you ask me. There is hardly any actual flight action other than a few sequences inside 'T-6 Texan' trainer aircraft. There is a bit of fighter action towards the end but its not much better than the previous film efforts in terms of effects or stunts. The plot is terrible and involves more corrupt US Air Force officials trying to create deadly bio weapons on the sly. Yep you've guessed it, its up to Gossett and his criminal kids to save the day and stop them. The major issue I have with this film is the fact they decide to bring back 'Doug Masters' from the original film despite the fact he was killed off at the start of the second! how on earth?!. There is no explanation for this either, he's just there, good as new, errr continuity? It doesn't matter anyway as the film is dreadful in every way, visuals, effects, plot, acting etc...A poor end for the franchise after a pretty good third film, Gossett must have had high hopes after part 3 why else would he agree to this?.
Phil Hubbs
Super Reviewer
Fourth and final entry in the bland Iron Eagle series, which never saw anything truly entertaining, to begin with really doesn't add anything to the two previous entries to the original film. With this final awful train wreck of a movie, there is nothing good here to enjoy. You may find yourself fast forwarding and skipping plenty of scenes because, it's just a dull, mess that has no redeeming qualities. Don't waste your time with this movie, as it is nothing new and it revisits the same old ideas of the previous entries. I hated the film, and I find it astounding that they made three sequels to the original Iron Eagle. With a poor cast of actors, sloppily written script and bland direction, Iron Eagle IKV is a film that never should have been made. Iron Eagle IV is a film that has way too much ridiculousness going for it, even by the series standards. I'm pretty happy that they didn't make any more films, as these movies were just low budget rip-offs of Top Gun. Like I've said in a few other of my reviews of the sequels, the first was decent, but they never should have made follow up films. The only thing that the series ever had going for it was the hard rock, Heavy metal soundtracks of the 80's, which was standout. Other than that, the film is pretty bad, and of all the entries in the series, I would say that this is the worst yet, and that's saying a lot. Watch something else, in the end you're not missing anything whatsoever, this is basically a rehash of old ideas, and by this point, everything feels strained, and the filmmakers just made a film for the sake of it, and with the results we get here, they clearly didn't know how to make a good film.
Iron Eagle IV (Iron Eagle on the Attack) Quotes
There are no approved quotes yet for this movie.