The Iron Giant
(1999)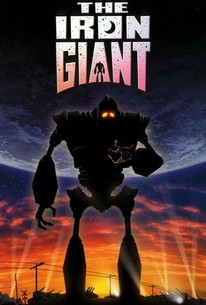 TOMATOMETER
AUDIENCE SCORE
Critic Consensus: The endearing Iron Giant tackles ambitious topics and complex human relationships with a steady hand and beautifully animated direction from Brad Bird.
Movie Info
"Iron Giant" is based upon the 1968 story,'Iron Man,' by the British poet laureate Ted Hughes. The film is about a giant metal machine that drops from the sky and frightens a small town in Maine in 1958, only to find a friend named, Hogarth, that ultimately finds its humanity and saving the towns people of their fears and prejudices.
News & Interviews for The Iron Giant
Critic Reviews for The Iron Giant
Audience Reviews for The Iron Giant
When people call a movie an instant classic, that could either mean they're simply calling it a terrific film or truthfully believe that it'll be a movie people will be looking back on in about 50 years as one of the greats. I can only speak for myself, but The Iron Giant has aged very well and still remains to be one of the best movies of its kind. On top of that, Warner Bros. hasn't really been known for their animation lately, which is sad, due to the fact that they clearly had a home run with this film, at least in terms of quality. No, the box office return wasn't all that great, which surprises me, because they could've easily marketed it in the style of E.T.. That being said, I'm not here to talk about the "what-ifs" surrounding this film, but rather the film itself and how it holds up. If you haven't seen this film yet, here is why it should be a top priority of yours. From the moment this film begins, you know the type of movie you're in for. If you're looking for a film about a monster destroying cities, then I recommend checking out King Kong or Godzilla. The Iron Giant is as much about emotion as it's about spectacle. Crash landing on Earth, a giant robot befriends young Hogarth, a boy who doesn't seem to have any close relations with people his age. At first being terrified, he comes to fall in love with this giant and they form a very unlikely bond. Nowadays this story seems to have been done many times, but this film was released around the time that it still felt relevant and fresh. Their bond and outlook on life truly make this film as incredible as it is. There is always a fear with big Hollywood productions, as they can easily be thrown together quickly in order to earn a few bucks at the box office. Whether it's a low or high budget live-action or animated feature, the characters are a huge piece of the puzzle in every case. Sure, Hogarth, his mother, and Dean are all very well-drawn characters, but the secondary characters in the military and the very annoying Kent aren't stupid in the slightest. Never once did I find myself wishing for anyone to be off-screen. There are no dumb decisions, just persistence and choosing to believe certain things. I either genuinely loved characters throughout this film or genuinely loved hating them. These are some very well-done characters. From its violence message to its pure fun factors, there is a little bit of everything packed into this very short 90 minutes that I believe people of all ages will be able to enjoy forever. Nowadays with films like Transformers, we have non-stop action sequences with very little substance and films with a great story or characters, but fails in its execution or excitement, like Eragon. I know Eragon is a horrible example, but those books have quite a bit of substance for kids and the movie is complete garbage with dated effects. Whether you are an adult who can find yourself tearing up at the emotional dialogue toward the end of the film, or you are a kid who wants to see a giant robot in a movie, The Iron Giant is one of the rare films that can easily please everyone. In the end, this is a film that has grown on people over the years, as it was never a financially successful movie, but that has almost benefitted the film as a whole. As more and more people either discover this film for the first time or show it to their young kids, a new found love will forever be had with this movie. For what this film set out to accomplish, it's a flat out masterpiece. Sure, comparisons will always relate back to that of E.T., and while the first two acts are similar, the finale couldn't be any different. I personally think this film stands on its own without comparison. The Iron Giant is a fantastic film from beginning to end and I highly recommend it to those who have yet to discover this perfect little gem.
½
Thoughtful, heartfelt and not to mention its wonderful animation. The Iron Giant is a rare animated picture that blends mystery, drama and overall family-fun. The unexpected joy and praise makes this film a timeless achievement for both its director and its voice counterparts. 4.5/5
Eugene Bernabe
Super Reviewer
An alien from the skies befriends a young boy and their friendship is the center of this tale about loyalty and family in the face of serious opposition. Most everything here is done with a light touch allowing the audience, us, to come to our own conclusions with the exception of the bad guy, a government agent. Its a decent story decently told and worth looking for.
Kevin M. Williams
Super Reviewer
The Iron Giant Quotes
| | |
| --- | --- |
| Hogarth Hughes: | It's bad to kill. Guns kill. And you don't have to be a gun. You are who you choose to be. You choose. Choose. |
| | |
| --- | --- |
| Kent Mansley: | You think this metal man is fun, but who built it? The Russians? The Chinese? The Martians.....Canadians? I don't care! All I know is we didn't build it, and that's reason enough to assume the worst, and blow it to kingdom come! |
| | |
| --- | --- |
| The Iron Giant: | Souls...don't...die. |
| | |
| --- | --- |
| The Iron Giant: | Souls...don't...die. |