Iron Man
(2008)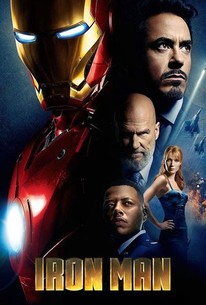 TOMATOMETER
AUDIENCE SCORE
Critic Consensus: Powered by Robert Downey Jr.'s vibrant charm, Iron Man turbo-charges the superhero genre with a deft intelligence and infectious sense of fun.
Movie Info
Billionaire industrialist and genius inventor Tony Stark is kidnapped and forced to build a devastating weapon. Instead, using his intelligence and ingenuity, Tony builds a high-tech suit of armor and escapes captivity. When he uncovers a nefarious plot with global implications, he dons his powerful armor and vows to protect the world as Iron Man.
News & Interviews for Iron Man
Critic Reviews for Iron Man
Audience Reviews for Iron Man
Thanks to a good script and Robert Downey Jr's wit, this ended up being a fun, well-paced, occasionally heartwarming, and overall impressive piece of Audi marketing.
Letitia Lew
Super Reviewer
Many regard this as one of the greatest superhero films of all time, I wouldn't nessecarily go that far. Granted it is a good movie, but its not that good to me. I never heard of Robert Downey Jr. before this film so I'm happy that this film introduced me to him, and he did a fantastic job with this film, being a arrogant know it all, but smart person. The beginning of the film is like some of Jon Favreau's films, it has something not explained start the film and then they explain it right after. Jeff Bridges also does a fantastic job as the main villain, being a friend to Tony, I thought that added a lot of good reasons to have his butt kicked when he betrays him. I also have to say, for a film thats 2 hours it flies by pretty quick, sure the beginning is kind of slow, but once it gets moving, oh boy does it go fast, and the action and comedy make sure it doesn't feel like a film that is just for spectacle.
Michael Edwards
Super Reviewer
½
I admit, I was expecting this to be dreadful but I was wrong, its amazingly very good. The usual obvious origins story line of course with everything you tend to expect when a super heroic legend begins. The first thing that hit me was the suit, its sex on a stick for sure! it looks so so damn cool. The way it attaches itself to Downey and locks in place, the HUD display in the helmet, the weapons on the arm sections, its fantastic, finally there's a competitor to the Stormtrooper armour. This is what I wanna see for the next Robocop, but with a more violent tone of course. This movie shows what can be done if done right, how 'Transformers' could have looked, its very impressive indeed. Not only are the actual Iron Man suits extremely well made for real in certain sequences, but the CGI is top notch in other outlandish sequences. I'm no fan of CGI I won't deny but even this shocked me, I fully expected this film to look bad obvious plastic and fake, but bugger me if the CGI wasn't fudging amazing! Best damn CGI I've seen in ages, I loved the new shiny looking suit effects but I loved the battered scratched used CGI effects even more. It could of been so easy to keep everything looking nice sparkly and new, but like Star Wars the used universe works wonders and a beaten up Iron Man suit looks brilliant. The first action scene where Stark gets back at the terrorists that captured him is excellent, really action packed and gets you right into the action and wanting more. You really get behind Stark as he powers the terrorists through walls and takes them out with tiny missiles, superb intro for the suit with an awesome and highly grounded action sequence (wouldn't blame you for thinking any action was gonna be hokey). The finale battle with bridges character is a little silly and kinda loses that realistic feel, really goes into the comicbook realms and almost looks a bit like 'Transformers' at times *shudders!*. Its still handled well and of course looks excellent, much better than Bay's robot film as you can actually make out what's going on. Plus its not too over the top, it just about remains reasonably sensible...well as sensible as a comicbook action flick goes anyway. The cast is also spot on for once, Downey is great as Stark, his humour is dry witty sarcastic and does raise a giggle for the older audience members. Bridges does look powerful and evil as the bald villain, he has that deep thick voice which serves him well, didn't see quite enough of him being evil here. Paltrow was also OK, a little annoying with her screams all the time but I guess that's what heroines do in these type of films. There were a few bits I didn't get on with too well, when he's captured by the terrorists he makes his initial suit very quickly, a little too quickly maybe. At the end he refers to himself as Iron Man but this is never mentioned throughout, it just pops up at the end which is weird. Why does he tell the world he is Iron Man at the end? did he make up the name there and then? and why does he show the injury on his chest with a circular glow? surely that's just asking for trouble. Maybe these are things you know if your a fanboy. I would like to ask for no more bloody Stan Lee cameos, Jesus!...yes you made up the characters, we get it, get of your high horse already. Anyway, yes this was a great fun film for everyone to enjoy. Still very surprised it turned out so well and with such good looking CGI! Would have laid money on this being a childish poor looking mess. For once I am looking forward to a sequel.
Phil Hubbs
Super Reviewer
Iron Man Quotes
| | |
| --- | --- |
| Christine Everhart: | You've been called the Da Vinci of our time. What do you say to that? |
| Tony Stark: | Absolutely ridiculous, I don't paint. |
| | |
| --- | --- |
| Tony Stark: | Divert power to chest RT. |
| | |
| --- | --- |
| Obadiah Stane: | Tony Stark was able to build this in a cave! With a box of scraps! |
| | |
| --- | --- |
| Obadiah Stane: | Give up Tony! My suit is more superior to yours in every way! |
| Tony Stark: | How'd you solve the icing problem? |
| Obadiah Stane: | Icing problem? |
| Tony Stark: | Might want to look into it. |