Iron Man 2
(2010)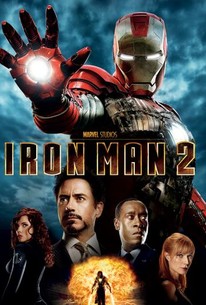 TOMATOMETER
AUDIENCE SCORE
Critic Consensus: It isn't quite the breath of fresh air that Iron Man was, but this sequel comes close with solid performances and an action-packed plot.
Movie Info
In "Iron Man 2," the world is aware that billionaire inventor Tony Stark is the armored Super Hero Iron Man. Under pressure from the government, the press and the public to share his technology with the military, Tony is unwilling to divulge the secrets behind the Iron Man armor because he fears the information will slip into the wrong hands. With Pepper Potts and James "Rhodey" Rhodes at his side, Tony forges new alliances and confronts powerful new forces.
Critic Reviews for Iron Man 2
Audience Reviews for Iron Man 2
½
It's pretty clear early on that this isn't going to be as strong of a movie as the first one, but it still has most of the things that made the first a hit. Robert Downey Jr. is still great, the special effects and action are still fun, and the movie is plenty funny. The story is not as strong as the first, mainly because the villain's motivations in this one are so poorly done. Mickey Rourke's performance is fine, but the screenplay doesn't give his character any depth. Tony Stark's character development throughout the first two movies is really impressive though. I like that the filmmakers have made this series more mature than most outside of the new Nolan Batman franchise. Most sequels to blockbuster hits go with bigger and less elaborate film-making and usually are not as strong (and Iron Man 2 is not one of the exceptions), but is still plenty of fun and a worthy sequel. Bring on Iron Man 3.
Josh Lewis
Super Reviewer
RDJ is already well developed as Iron Man by now and does his fantastic job as Tony Stark as he usually does and Gwyneth Paltrow does a good job reprising her role as Pepper Potts and the inclusion of Don Cheadle as a replacement for Terrence Howard doesn't do as good of a job as Howard but is still a good replacement. but the two new inclusions really steal the show for me. Sam Rockwell does a great job as the prick rival to Tony Stark, Justin Hammer, and Mickey Rourke does probably one of his best roles I've seen him portray as the main villain Whiplash (one of my favorite Iron Man villains BTW.) He has this amazing powerful sound to his voice and every time he appears in a scene he just steals the show with this presence of power he brings to the character. Also the action I think is a bit of an improvement compared to the first film. Now I do think the first Iron Man has some of the best action scenes in a superhero film but the 2nd film I think, while having less action, takes every single bit of advantage of every scene with action and just makes it look amazing. My favorite fight aside from the fight at the end of the film an the fight between Tony and Cheadle at Starks house, is the scene where Whiplash splits the cars in half when he is on the racetrack with his electric whips and actually is a legit threat to Tony and does a lot of damage to him. While I do recommend both films, I do prefer this film a little bit more so I say check both films out. I just hope 3 can make the Mandarin an interesting villain for once.
Michael Edwards
Super Reviewer
½
Although enjoyable, this sequel adopts a more serious tone and grants the main character a tragic nuance, which unfortunately turns the movie into a less gratifying experience, since what made the first so great was its sarcastic human hero who never seemed to care about others.
Carlos Magalhães
Super Reviewer
Iron Man 2 Quotes
| | |
| --- | --- |
| Tony Stark: | I already told you, I don't wanna join your Super Secret Boy Band |
| Nick Fury: | (laughs) Nah I remember you go it alone. How's that working out by the way? |
| Nick Fury: | Nah I remember you go it alone. How's that working out by the way? |
| Tony Stark: | It's you know it's, I'm sorry I don't wanna get off on the wrong foot here, do I look at your eye or the patch? I'm still hungover, I can't even tell if you're real or not |
| Tony Stark: | It's you know it's, I'm sorry I don't wanna get off on the wrong foot here, do I look at your eye or the patch? I'm still hungover, I can't even tell if you're real or not. |
| | |
| --- | --- |
| Tony Stark: | (Looks up information about Natalie Rushman) |
| Pepper Potts: | So now your Googling her? |
| Tony Stark: | I thought I was oogling her. |