Iron Will
(1994)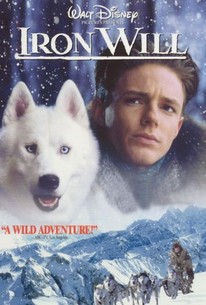 Movie Info
A rousing Disney dog-sled adventure based on a real life event -- a 522-mile dog-sled race between Winnipeg, Canada and St. Paul, Minnesota that occurred in 1917. When his father is accidentally killed, South Dakota farmboy Will Stoneman (Mackenzie Astin) decides to enter the dog-sled race in order to save his family from financial ruin. His mother (Penelope Windust) wants Will to use part of the prospective $10,000 race winnings for college, but Will just wants to save the farm. With the help of Indian handyman Ned Dodd (August Schellenberg), Will begins to train for the race. But the rich mogul underwriting the race, J.P. Harper (David Ogden Stiers), doesn't want Will to enter, thinking the competition too arduous and too dangerous for such a young boy. To Will's aid comes yellow journalist Harry Kingsley (Kevin Spacey), who convinces Harper to permit Will to enter the race. But Harry also has his own agenda -- he sees a great story in Will and thinks it will sell newspapers and advance his journalistic career. With his father's best dog Gus at the head of his dog team, Will is ready and determined to win the race. But Will discovers that winning the race is only half his battle. Dealing with the petty and malevolent human beings involved in the race -- in particular, the egotistical Scandinavian champion Borg Guillarson (George Gerdes) and the wealthy gambler Angus McTeague (Brian Cox) -- prove to be as much of a challenge to his mettle than any natural obstacles Will might encounter.
Critic Reviews for Iron Will
Audience Reviews for Iron Will
Dakota teen enters the world's most grueling dogsled marathon to save the family farm and earn his college tuition in this gloriously old-fashioned adventure. The picture is beautifully shot, especially the train scenes. The sledding scenes are very good and it is really cold - you can feel it, and so can the actors judging by the breath. The acting is great, the screenplay is all right, history aside it's not too bad. After all, history can be bleak sometimes, and hope springs eternal, we can always dream and imagine right? I enjoyed Mackenzie Astin's performance, and also liked Kevin Spacey's reporter out for the "big story" who in a sense was the biggest underdog of all.
Dean McKenna
Super Reviewer
8th grade English teacher, Mrs. McMurphy, made us watch this...and I'm very glad she did! Add this to the list of awesome Disney movies that you don't know are Disney flicks.
Jason Owens
Super Reviewer
Its good to see that in 1994 Excellent and Clean movies were still being put out with the Disney name attached to them, unlike those of this day and age with Disney / Pixtar label. After all old Walt would turn in his grave at some of the modern day Disney films, but this is not one of them, who ever wrote the plot for this web page is way off base ( matter fact it's a copy from Amazon dot com). This is an excellent movie about a 17 year old boy racing across Canada to St Paul Minnesota in a dog sled race to win $10000 to save his Mom's farm and go to college. All the things in a Disney movie that makes it good including tears (Pass a Kleenex), are found in this movie. This is based on the 1917 Dog Race in Canada combining 2 characters into one. Its worth sitting down with the pop corn and just enjoying, and of by the way you don't have to be a kiddy to enjoy it. 5 stars nothing less.
Bruce Bruce
Super Reviewer
Iron Will Quotes
There are no approved quotes yet for this movie.