Irresistible
(2005)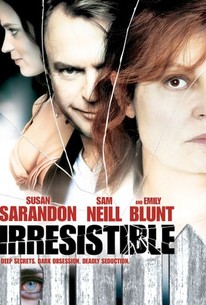 Movie Info
A paranoid housewife finds that her worst fears are merely dwarfed be the terrifying reality of her dangerous obsession in director Ann Turner's psychologically bent study in fear starring Susan Sarandon, Sam Neill, and Emily Blunt. Convinced that her husband's beautiful co-worker Mara (Blunt) is seeking to rob her of her family and steal her identity, Sophie Hartley (Sarandon) finds nothing but incredulous stares when she voices her concern to her disbelieving family and friends. As Sophie struggles to maintain her slipping sanity and the grip of paranoia continues to tighten its constricting grip, her acute obsession finds Sophie becoming her own worst nightmare.
Critic Reviews for Irresistible
Audience Reviews for Irresistible
½
As others have commented, this really does have the straight-to-dvd feel to it despite the good cast. I had never heard of it, but it was on TV so gave it a go. It moves slowly in the beginning and wasn't too sure about it, but as it moves on, and then with the two twists at the end, I was glad I stuck with it. Can't really say too much and give it away, but it was interesting and I wasn't quite sure which of the two ladies were delusional until the very end.
Nicki Marie
Super Reviewer
Sam Neil, Emily Blunt and Susan Sarandon: A brilliant cast but not such a brilliant movie! i mean yes you were getting twists and surprises right till the end but not great, its a bit dragged out and long winded that it just gets a bit boring, i like the concept of the story its pretty good but not a suspense thrilller that i liked could have been done better! Sam Neil looked Hot!!
Film Crazy
Super Reviewer
Leigh Ryan
Super Reviewer
Irresistible Quotes
There are no approved quotes yet for this movie.