Irréversible
(2002)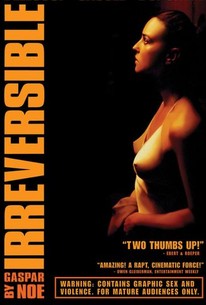 Movie Info
After a fight with her coked-up boyfriend Marcus, Alex leaves a party to go home. She never gets there; instead she's raped in a desolate tunnel. Her angry boyfriend, and her buddy Pierre decide to take justice into their own hands and hunt down the rapist themselves.
Critic Reviews for Irréversible
Audience Reviews for Irréversible
Whether or not they tried very hard to get some of the odd shots they pulled off, this whole film feels like build-up to nothing, because the last 20 minutes has the most relevance out of the entire film. "Irreversible" is notorious for it's rape scene, but I must say that I am surprised the film was even allowed to be released having that display. It may be some great and brutally honest acting, or he really did rape her, because I felt heartless after that scene. I do not have much to say about this film, because not really a whole lot happens until the end. It really is just a bizarre look into the directors mind I guess. This film will be forgotten in my mind for many reasons. There are some very cool edits and camera movements, but that is all this film has going for it. I didn't like it very much.
How difficult is it to show the inhumanity in rape and brutal violence? This film is too interested in setting up sick ironies, like one scene soon after we see a woman being raped, where she coldly tells her ex a few hours before hand that he couldn't ever please her sexually because he wasn't selfish enough. Or towards the end (at the tragic day's beginning), when she defiantly lectures to her current lover that he didn't steal her from another man, because a woman always chooses in the end. In almost every shot with the victim, the focus is on her as a sexual object. If the intent for showing the story backwards was for us to see the humanity of a woman we see raped and brutalized, then the last half of the script did a lackluster job, spending its time weaving something more devious. In fact, following the life of any female character for 40 minutes before she is raped would have made such a violent assault even more difficult to watch, not easier. This is an amoral exploitation film dressed in smoke and mirrors.
Matthew Slaven
Super Reviewer
Just one day after watching Oldboy and calling it one of the more grueling films I'd seen in a while, I finally sat down to watch the much talked about Gaspar Noe film Irreversible, and yeah, we have a new champion. This might be the most disturbing/distressing, and unrelenting film I've seen period. And you know what? I actually rather respect and admire this movie. I can't say I necessarily liked it or enjoyed it, but I am glad I saw it. A conventional story of brutal revenge and equally brutal revenge that takes place over the course of one nightmarish night is done in a really unconventional way, and that's probably the film's saving grace. We get about 12 or 13 extended scenes, each done as a single take (or at least appearing to be that way) presented in reverse chronological order. Doing a film in reverse has only been done two other times so far (Harold Pinter's Betrayal and Christopher Nolan's Memento), but I'm going to guess that its usage here is far more important and less gimmicky than with the other two, and I have to guess since I haven't seen the Pinter film. It really works though, and isn't a gimmick, because showing the film in the correct order would just make it purely exploitative; Having the revenge, then the rape, then the peace makes you rethink the scenario, and the film earns its graphic content that way. Yeah, the film isn't just about the infamous 9 minute rape (which is undeniably all a single take), or the fire extinguisher beating. It has a point, and works as an unrelenting study in depravity, cause and effect, and the consequences of actions and revenge. From structural and technical standpoints, the film is quite masterful and arty. I loved the reverse narrative, I adored the use of extended takes (even though some are disguised, and meant to appear as single takes), and the mise-en-scene that is employed (primarily though cinematography and sound design) to make this film a really uncomfortable, grueling, and awful experience. It gets the point across quite nicely, and does have a moral stance on rape, despite how unsubtle and vile the method of delivery. The performances are great. Real life husband and wife Monica Bellucci and Vicnent Cassel are great as screen couple Alex (the victim) and Marcus (one of her avengers), and you can tell they have great chemistry with one another. I also really have to applaud them for their willingness to take part in this, given the nature of things. By having the film play out as it does, we get a far better and richer understanding of their characters, which wouldn't happened if this was done in a straightforward way. Albert Dupontel is also great as Alex's former lover and Marcus's best friend. Then there's Jo Prestia as Le Tenia, who easily succeeds as one of the most vile and detestable screen characters ever. This is not an easy film to watch, but it is worth it.
Chris Weber
Super Reviewer
Irréversible Quotes
| | |
| --- | --- |
| Pierre: | You're behaving like an animal. Even animals don't seek revenge. |
| | |
| --- | --- |
| Philippe: | Time destroys everything. |