Is Paris Burning? (Paris brûle-t-il?)
(1966)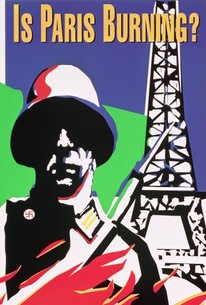 Is Paris Burning? (Paris brûle-t-il?) Photos
Movie Info
In 1944, with Paris on the verge of Liberation by the allies, Adolph Hitler ordered that the City of Light be blown up and burned to the ground. General Dietrich Von Choltitz, after much rumination, decided that he didn't want to go down in history as the man who destroyed Paris. His refusal to follow Hitler's orders would make him a pariah in Germany for the rest of his life; nor was his gesture ever rewarded by the Allies. From this very human story in the midst of one of the most inhuman conflicts in history grew the screenplay (by Gore Vidal and Francis Ford Coppola) of the all-star, internationally produced Is Paris Burning? Whereas the earlier The Longest Day was able to support a castful of celebrities and brief subplot vignettes, Is Paris Burning? seems more weighted down than weighty. Still, a modern audience will have fun playing "spot the star" throughout the film, especially when those spotted stars include the likes of Gert Frobe (as Choltitz), Jean-Paul Belmondo, Alain Delon, Kirk Douglas (as Patton), Glenn Ford (as Bradley), Yves Montand, Simone Signoret, Robert Stack, and even Anthony Perkins as a wide-eyed GI. Filmed on a gargantuan scale, Is Paris Burning? was based on a book by Larry Collins and Dominique LaPierre. The film was lensed in black and white, save for the Technicolor finale (in the original road-show prints).
Critic Reviews for Is Paris Burning? (Paris brûle-t-il?)
Audience Reviews for Is Paris Burning? (Paris brûle-t-il?)
½
Not bad looking. With a superb script by Gore Vidal and Francis Ford Coppula and directed by Rene Clement. Filmed in Panavision(was Oscar nominated for its stunning black and white cimematopgraphy),this film boasts an all star cast which features Charles Boyer,Leslie Caron,Glenn Ford,Henry Fonda,Robert Stack and a execptional performance by Kirk Douglas as General Patton. Be forewarned here since this picture runs over three hours long.
Mister Caple
Super Reviewer
Is Paris Burning? (Paris brûle-t-il?) Quotes
There are no approved quotes yet for this movie.