Is Anybody There?
(2009)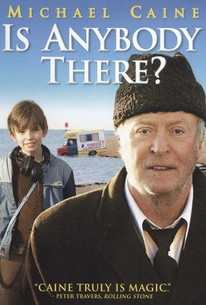 TOMATOMETER
AUDIENCE SCORE
Critic Consensus: Though Michael Caine gives an excellent performance, Is Anybody There? features a cliche-filled story that ultimately falters.
Movie Info
Set in 1980s seaside England, "Is Anybody There?" tells the story of 10-year-old Edward whose parents have turned their house into a retirement home. While his mother struggles to keep the family business afloat and his father copes with the onset of a mid-life crisis, Edward becomes increasingly obsessed with the ghosts and afterlives of the residents when they die. Edward's is a lonely existence until he meets Clarence, the latest arrival at the home, a retired magician and grieving widower who refuses to give in gracefully to old age. Their relationship begins at odds until Clarence notices that the boy is growing up even more fitfully than he is growing old. As they begin to face life together, Clarence comes to terms with his past, Edward tames his obsession with the unknown and they are both reminded of what magic is possible when life is lived to its fullest.
News & Interviews for Is Anybody There?
Critic Reviews for Is Anybody There?
Audience Reviews for Is Anybody There?
Clarence: Now for those of you who have never before sat in a seance, there is absolutely nothing to be fearful of. Ghosts... are very friendly sorts. I'll start by saying I got absolutely no enjoyment from watching Is Anybody There? outside of the central performance from Michael Caine. When Michael Caine can give a performance like this, and still not lift a movie over the hill, that is saying something. Caine is one of my favorite actors of all-time, so I'll watch anything he's ever been in. I mean I watched The fucking Swarm for godsakes. Is Anybody There? never gets anywhere in my opinion. It's predictable and annoying. The little kid in this one rivals any kid in movie history for me on the annoyance level. He's right there with that little fucker from Sleepless in Seattle. And when there's an annoying kid in a film, it just ruins the whole experience for me. He's the type of kid you just want to punch in the face. Edward is growing up in a nursing home which his parents run. By seeing a lot of death early on in his life, he has grown obsessed with death and the afterlife. He has ghost drawings hanging on his wall, and he spends his time trying to talk to the spirits in his house. Clarence shows up to take a room in the nursing home, and although the two start off on wrong terms, the two quickly become friends. I wasn't really buying the whole friendship in this one. I thought it was poorly developed, and didn't resonate the same power as say the friendship between characters in a movie like Secondhand Lions. Overall, I was fairly unimpressed by everything that was going on in this one. I found very little to take away from it, other than more reassurance that Caine is one of the best actors ever. It's a rather boring, dull, and uneventful film. 
Melvin White
Super Reviewer
Michael Caine's gift of a performance as a lifelong ladies man finally and miserably alone at the end of the line (and whatever ruminations you yourself might be inclined to ruminate on regarding the subject of waiting to die) is the draw here. There's a secondary plot about a youth's sad and forlorn coming of age in a retirement home, and how these two oddballs come to save each other.
Kevin M. Williams
Super Reviewer
A brilliantly profound yet sad film with a great cast. It truly touched me and although the story was fairly predictable it was Caine that made the character. Despite his bad actions you still felt for him as he was genuinely sorry for what he did. The themes they explored were difficult to watch. Incredibly sad and I think I'll only watch it if I feel sad already.
Sophie Burgess
Super Reviewer
Is Anybody There? Quotes
There are no approved quotes yet for this movie.