Island of Lost Souls
(1933)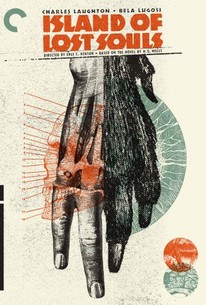 TOMATOMETER
AUDIENCE SCORE
Critic Consensus: Led by a note-perfect performance from Charles Laughton, Island of Lost Souls remains the definitive film adaptation of its classic source material.
Island of Lost Souls Photos
Movie Info
This first film version of H.G. Wells' Island of Dr. Moreau stars Charles Laughton as Dr.Moreau, a dedicated but sadly misguided scientist who rules the roost on a remote island. Shipwrecked sailor Edward Parker Richard Arlen finds himself on Moreau's island, agreeing to stick around until another boat can come along and take him home. But that's not quite what Moreau has in mind: he'd rather Parker stay on the island and marry the exotic Lota (Kathleen Burke), who curiously possesses the characteristics of the panther. In fact, all the island's natives seem more animal than human, especially the hirsute Bela Lugosi. And why not? They are animals who've been transformed by Moreau into humanlike creatures via surgery. Moreau's plans to mate Parker and Lota are complicated by the arrival of Parker's fiancee Leila Hyams, who has been brought to the island by ship's captain Stanley Fields, one of Moreau's flunkies. When Moreau kills Fields for this insubordination, he makes the mistake of breaking one of the rules he himself has imposed on the island: That no creature shall kill another. Island of Lost Souls does its job of inducing goosebumps so well that one can forgive the cherubic excesses of Charles Laughton in his portrayal of Dr. Moreau. The film would be remade under Wells' original title in 1978, with Burt Lancaster in the Laughton role.
Critic Reviews for Island of Lost Souls
Audience Reviews for Island of Lost Souls
½
The first and most fortunate adaptation of H.G. Wells' literary work. Released in the same year of Tod Browning's cult film "Freaks", also it does not shy away by showing very realistic and frightening make up effects, even if the former had real actors portraying the creatures, this picture is more elegant and elaborate. A brilliant Charles Laughton not only embodies the blindness and evil caused by hubris, but also humanizes his character.
Pierluigi Puccini
Super Reviewer
love laughton and he is dead creepy here but the bad makeup effects really put me off. the movie was banned for years for it's suggestion of bestiality and it is indeed very strange. kind of like 'the most dangerous game' only with mutants
Stella Dallas
Super Reviewer
In the world of 1930s films, the pre-code era is looked upon as one of the greatest times for filmmaking. Hollywood hadn't cracked down on immoral thins being filmed. If anything was edited, it was usually sound clips that referenced God (the worst offending example was a horrific edit on the 1931 "Frankenstein" and the "IT'S ALIVE" speech) and other little things. But most scenes with disturbing themes and deaths made their way to theaters unscathed. "Island of Lost Souls" is one of those films that Hollywood left relatively untouched. "Lost Souls" is not really scary, not in the sense that when you watch it you'll leap out of your seat in terror. Instead, it is relentlessly creepy with some weird themes that haven't even been thoroughly examined in desensitized times (mainly the ethics of bestiality). The only moment that might be regarded as scary happens almost right at the end of the movie, and let me say, I did leap off of my couch and shriek "OH MY GOD." In total, this is an underrated gem from the pre-code era, and now Criterion has finally released it on DVD and Blu-Ray (prior to last year, the only way to watch the film was on LaserDisc or VHS), so check it out.
Jacob Ethington
Super Reviewer
Island of Lost Souls Quotes
| | |
| --- | --- |
| Dr. Moreau: | They Are Restless Tonight. |
| Dr. Moreau: | They are restless tonight. |
| | |
| --- | --- |
| Dr. Moreau: | Do You Know What It Means To Feel Like God? |
| Dr. Moreau: | Mr. Parker, do you know what it means to feel like God? |
| | |
| --- | --- |
| Ruth Thomas: | [hearing chanting] What's that? |
| Dr. Moreau: | The natives, they have a curious ceremony. Mr. Parker has witnessed it. |
| Ruth Thomas: | Tell us about it, Edward. |
| Edward Parker: | Oh, it's... it's nothing. |
| Dr. Moreau: | They are restless tonight. |