Isle of the Dead
(1945)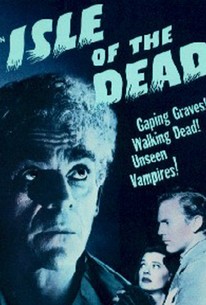 Movie Info
Inspired by Swiss artist Arnold Böcklin's famous painting, this seminal horror film marked the first of three collaborations between RKO producer Val Lewton and British genre star Boris Karloff. Set during the 1912 Balkan Wars, Isle of the Death featured Karloff as Greek general Pherides who, along with an American journalist (Marc Cramer), visits the gravesite of his late wife on a deserted island. They find the grave desecrated and a group of travelers held hostage by the superstitious beliefs of Kyra (Helene Thimig). One by one, the inhabitants of the island are felled by what Dr. Drossos (Ernest Dorian aka Ernst Deutsch) terms the plague, but what Kyra insists is the work of Thea (Ellen Drew), a young nurse she believes to be a "varvoloka," an ancient Greek vampire. Thea's patient, Mrs. St. Aubun (Katherine Emery), suffers from death-like trances and, sure enough, during one of her spells, she is pronounced dead by Swiss archeologist Albrecht (Jason Robards Sr. and is interred alive.
News & Interviews for Isle of the Dead
Critic Reviews for Isle of the Dead
Audience Reviews for Isle of the Dead
½
Confused. Some nice plot kernels and plenty of great Lewton atmospherics but ... no. Too much going on here.
Bob Stinson
Super Reviewer
This one came as a complete surprise to me. Here I was expecting a schlock horror film and what do I get? A very suspenseful and thought-provoking thriller. Fantastic I say! Like most thrillers, it takes it a bit to get going, but if you perservere with a bit of patience, you'll discover your heart racing while the suspense is wound up slowly over the course of the film. You can cut the tension with a knife when the creeps start creeping in, and surprisingly, none of them from Karloff himself really. I just can't get over how effective this film was. You're bound to find this in a cheap bin at a local K-Mart or Big Lots! (which is where I found it), but it's definitely worth more than its purchase price. Pick this one up and give it a chance if you spot it.
Tim Salmons
Super Reviewer
Vampires, plague, zombies, murder? What is this movie about? And why is it so boring? Karloff is good as usual, but the story isn't up to par.
Isle of the Dead Quotes
There are no approved quotes yet for this movie.