Isn't It Romantic
(2019)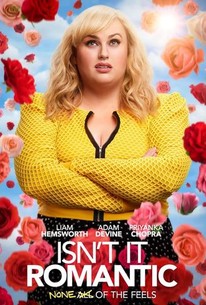 TOMATOMETER
AUDIENCE SCORE
Critic Consensus: It follows as many genre conventions as it mocks, but Isn't It Romantic is a feel-good rom-com with some satirical bite -- and a star well-suited for both.
Movie Info
New York City architect Natalie works hard to get noticed at her job but is more likely to be asked to deliver coffee and bagels than to design the city's next skyscraper. And if things weren't bad enough, Natalie, a lifelong cynic when it comes to love, has an encounter with a mugger that renders her unconscious, waking to discover that her life has suddenly become her worst nightmare -- a romantic comedy -- and she is the leading lady.
News & Interviews for Isn't It Romantic
Critic Reviews for Isn't It Romantic
Audience Reviews for Isn't It Romantic
½
The script fits the star perfectly. It was funny and enjoyable. But forgettable.
Chrisanne Chin
Super Reviewer
½
This movie that spoofs the movies, specifically rom-coms, enjoys a willing cast even if the writing is thin and predictable. Teens might get a kick out of it, but a couple of dance numbers cannot make a movie a whole thing.
Kevin M. Williams
Super Reviewer
½
I FEEL PRETTY OKAY - My Review of ISNï¿ 1/2(TM)T IT ROMANTIC (2 1/2 Stars) There was a time when romantic comedies ruled the Hollywood box office with stars like Julia Roberts, Meg Ryan and Sandra Bullock ruling as its queens. Like any trends, things eventually took a dip, and this former juggernaut took a backseat to all things superhero. It didnï¿ 1/2(TM)t help that by exposing its many tropes (meet cute, getting dressed montage, and racing to the airport at the end), rom-coms seemed patently phony and trite. But who doesnï¿ 1/2(TM)t love love? Without love, as the lyrics from the HAIRSPRAY musical go, ï¿ 1/2Life is Doris Day at The Apolloï¿ 1/2Â?. With shows like THE BACHELOR and the beautifully realized DATING AROUND, the public still has an appetite for this aspirational genre, whether they take it seriously or enjoy hate-watching the hell out of them. Into this fray comes ISNï¿ 1/2(TM)T IT ROMANTIC, a meta rom-com starring that most meta of meta-stars, Rebel Wilson. Sheï¿ 1/2(TM)s adorable, vivacious, and much like Amy Schumer, is in on the joke while having a clear feminist agenda. Much like last yearï¿ 1/2(TM)s I FEEL PRETTY, this film, directed by Todd Strauss-Schulson and written by Erin Cardillo, Dana Fox, and Katie Silberman, spoofs rom-coms while also unashamedly being one. While not as self-reflexive (or as good) as THEY CAME TOGETHER, which starred Amy Poehler, ISNï¿ 1/2(TM)T IT ROMANTIC is cute, fun, goes down easy and yes, will be forgotten well before you get to your car or off your couch. Wilson plays Natalie, a New York architect who disappears into the woodwork in every aspect of her life. She lives in a dumpy apartment, gets mistaken for a lackey at work, and lacks so much self-awareness, that she canï¿ 1/2(TM)t recognize that her co-worker Josh (Adam Devine) has crushed on her something fierce. She complains to her PRETTY WOMAN-loving assistant Whitney (the excellent Betty Gilpin from GLOW) that life is tough and romantic comedies are bullshit. Of course, one fateful day while being mugged in the subway, she bonks her head and wakes up to a whole new fantasy world where New York smells fresh and everyone desires her. In short, sheï¿ 1/2(TM)s living in the most clichï¿ 1/2 (C)d rom-com ever, with her fancy clothes, perfect apartment, and a hunky client named Blake (Liam Hemsworth, who has clearly learned from his brother Chris that this family has a perfectly light touch when it comes to comedy) who finds Natalie utterly ï¿ 1/2beguilingï¿ 1/2Â?. Her dead-inside neighbor Donny (a hilarious Brandon Scott Jones) has transformed into that trope of all tropes, the overly attentive gay best friend with absolutely no life of his own. He exists only to boost Natalieï¿ 1/2(TM)s confidence with an abundance of side-eye and ï¿ 1/2Oh grrrrrrllllï¿ 1/2Â? exclamations. In this fantasy world, Whitney has become her arch-rival in the work place, because women never seem to get along in rom-coms (an astute feminist observation), and Josh falls fast and hard for Isabella (Priyanka Chopra), the rich ï¿ 1/2yoga ambassadorï¿ 1/2Â? he meets one day in the park. Will Natalie ever wake up from her own honeytrap? Will Josh realize that Isabella is just another shallow one-percenter? Will Blake take off his shirt a lot? I think you already know the answers to these questions. ISNï¿ 1/2(TM)T IT ROMANTIC is forgettable fluff. Wilson proves she has the vulnerability to transcend her distaff John Belushi image and achieves some sweet emotional moments. Like most comedy stars, Iï¿ 1/2(TM)m certain she has some deep wells of untapped anger weï¿ 1/2(TM)ve yet to see, something this film slyly hints at but doesnï¿ 1/2(TM)t quite deliver. I think sheï¿ 1/2(TM)ll have her own CAN YOU EVER FORGIVE ME? moment some day. Still, she can carry a film. The movie has the requisite musical numbers, the racing to get to her true love in time, and the candy-colored palette we seem to require from these films. It swims in the clichï¿ 1/2 (C)s it openly mocks. In a sense, it acknowledges the duality of having a place in our hearts for the fantasy while openly jeering at it, and it sends you out the door with all of the girl power, self-esteem boosting, PG-13 sanitized, underlying messaging it can muster. It gets bonus points for casting AB FABï¿ 1/2(TM)s legendary Jennifer Saunders as Natalieï¿ 1/2(TM)s mom, but loses most of them by only giving her one short flashback opening scene. Rom-coms always have meddling parents and it would have been great to bring Saunders back to spar with Wilson instead of with the chid actor portraying young Natalie. Boo!!!! [INSERT SCENE OF ME BEING SO OUTRAGED I BONK MY HEAD AGAINST SOMETHING] Oh wait a minute. What happened? Where am I? I just woke up. I was talking about a movie I saw. What was it? Itï¿ 1/2(TM)ll come to me. Something bright, breezy andï¿ 1/2oh never mind. I forgot what it was. My head hurts.
Glenn Gaylord
Super Reviewer
Isn't It Romantic Quotes
There are no approved quotes yet for this movie.