It Comes At Night
(2017)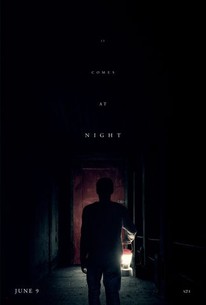 TOMATOMETER
AUDIENCE SCORE
Critic Consensus: It Comes at Night makes lethally effective use of its bare-bones trappings while proving once again that what's left unseen can be just as horrifying as anything on the screen.
Movie Info
Imagine the end of the world. Now imagine something worse. Award-winning filmmaker Trey Edward Shults follows his incredible debut feature KRISHA with IT COMES AT NIGHT, a horror film following a man (Joel Edgerton) as he learns that the evil stalking his family home may be only a prelude to horrors that come from within. Secure within a desolate home as an unnatural threat terrorizes the world, the tenuous domestic order he has established with his wife and son is put to the ultimate test with the arrival of a desperate young family seeking refuge. Despite the best intentions of both families, paranoia and mistrust boil over as the horrors outside creep ever-closer, awakening something hidden and monstrous within him as he learns that the protection of his family comes at the cost of his soul.
Critic Reviews for It Comes At Night
Audience Reviews for It Comes At Night
A combination of nerve-racking sound, uncertainty and paranoia builds up what seems to be a grounded take on a pandemic-like survival. It Comes at Night is able to use the aspect of internal horrors and panic to develop a sense of unnerving suspense that is for the most part effective especially in the third act. 4/1/5
Eugene Bernabe
Super Reviewer
½
For anyone who has ever seen The Walking Dead, this film won't be very original in terms of how it depicts paranoia and distrust between strangers in a post-apocalyptic scenario, but it compensates with a tense and unsettling mystery that keeps us on the edge of our seats.
Carlos Magalhães
Super Reviewer
½
Like an earlier harbinger of the potential pitfalls of mother! marketing your movie as something it's not, the vaguely apocalyptic drama It Comes at Night is a paranoid thriller that is so bleak and absent resolution that you'll wonder why anyone bothered. It's not a bad film, and actually writer/director Trey Edward Shults has a knowing command on how to raise and develop tension with very precise camerawork and visual composition. The slow inspection of offscreen noise is still ready to build tension. The story has promise. Joel Edgerton is the father of a family trying to eek out an existence after the spreading of a deadly plague. He has a strict series of guidelines to protect his family members and keep them secure. This is put into jeopardy when he meets another family and invites them into his home. The rest of the film follows the slow dismantling of trust and the rise in suspicion and how it ruins both families. That's essentially the movie. There is no "it" of the It Comes at Night. The post-apocalyptic element is at best tertiary to the plot, and the titular warning seems odd considering sickness can arrive at all hours. I think the reason audiences seemed to froth wildly at the mouth over this movie is due to its grossly misleading marketing. I re-watched the trailer and all of the supernatural imagery, which is extensively highlighted, is from dream sequences, and one dream sequence within a dream sequence. There's a moment where the grandfather's dog runs off into the woods at barks at an unseen force. You hear strange sounds but you never see anything, and this becomes just another unresolved, underdeveloped element. This is more a Twilight Zone parable about the destructive nature of man. The look of the film is moody, the performances are good, but I felt underwhelmed by the end and questioned the point of it all. It Comes at Night is okay. I can't see what people loved and I can't see what people hated, though I can see more of the aversion. Nate's Grade: C+
Nate Zoebl
Super Reviewer
It Comes At Night Quotes
There are no approved quotes yet for this movie.