It Happened One Night
(1934)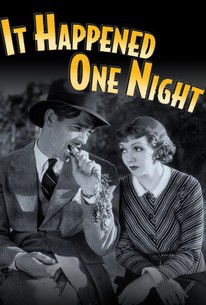 TOMATOMETER
AUDIENCE SCORE
Critic Consensus: Capturing its stars and director at their finest, It Happened One Night remains unsurpassed by the countless romantic comedies it has inspired.
It Happened One Night Videos
It Happened One Night Photos
Movie Info
Frank Capra's seminal screwball comedy, which won all five major Academy Awards for 1934, is still as breezy and beguiling today. Claudette Colbert plays Ellie Andrews, a spoiled heiress who has married fortune-hunting aviator King Westley (Jameson Thomas), despite her father (Walter Connolly)'s objections. To keep Ellie from marrying this lothario, her father has been holding her prisoner aboard his yacht. But Ellie bolts from the yacht, swims ashore in her clothes, and eventually slips onto a Greyhound bus bound for New York. Aboard the bus is newspaper reporter Peter Warne (Clark Gable), who has recently been fired for drinking on the job. Peter gets the last seat on the bus -- but when he gets up to argue with the bus driver, Ellie takes his seat. Since it is the last seat on the bus, they have to share it. When Ellie has her purse stolen and she refuses to report it, Peter begins to suspect something. The next morning, they both miss the bus after a leisurely breakfast, and Peter reveals that he knows her identity. She makes a deal with him: if he helps her get to New York, he can write a scoop about her for his paper. Peter thinks she is a spoiled brat, however, and refuses a monetary bribe: "I'm not interested in your money or your problem. You, King Westley, your father -- you're all a lot of hooey to me!" But as they travel northward and engage in a series of misadventures, the gruff newspaperman and the spoiled rich girl, thrown together by circumstances, fall in love with each other. This movie set the pace for the "screwball" comedy, the witty and romantic clash of temperaments between a man and a woman mismatched in both personality and social position, a type of movie often associated with Katherine Hepburn in such classics as Bringing Up Baby (1938), The Philadelphia Story (1940), and, with Spencer Tracy, Adam's Rib (1949), Pat and Mike (1952), and Desk Set (1957), among others. The only other movies to win all five major Academy Awards (Best Picture, Actor, Actress, Director, and Screenplay) were One Flew Over the Cuckoo's Nest (1975) and The Silence of the Lambs (1991). ~ Paul Brenner, Rovi
News & Interviews for It Happened One Night
Critic Reviews for It Happened One Night
Audience Reviews for It Happened One Night
This charming classic may be the very first screwball comedy of Cinema, a funny, amusing and optimistic movie with a deliciously sharp dialogue and wonderful performances from Gable and Colbert, who have a great onscreen chemistry together.
Carlos Magalhães
Super Reviewer
Frank Capra's road trip from Miami to New York is actually a poem to everyday America and Americans (your unwashed masses) and laced throughout with vignettes of common people simply enjoying life ... practically the blueprint for Hollywood gold. Remember James Cameron's Titanic? Well, here is where he stole the central theme. Gable and Colbert are great as the surrogates for us in this tale, he as the jack-of-all-trades everyman, and she as the princess who finds her Prince Charming is closer than she thinks. It never gets old, the scene in the bedroom still laced with agonizingly palpable tension, even after all these years.
Kevin M. Williams
Super Reviewer
Colbert and Gable hated making it and it ended up being one of Hitler's favorite films, but Capra's perfectly scripted romantic comedy has a stamp of glorious old-Hollywood quality.
Kevin Cookman
Super Reviewer
It Happened One Night Quotes
| | |
| --- | --- |
| Alexander Andrews: | I asked you a simple question! Do you love her? |
| | |
| --- | --- |
| Peter Warne: | Oh, he flies through the air with the greatest of ease, the daring young man on the flying trapeze... |
| | |
| --- | --- |
| Ellie Andrews: | We'll get on a merry-go-round and never get off. Promise me we'll never get off. |
| | |
| --- | --- |
| Peter Warne: | I want to see what love looks like when it's triumphant. I haven't had a good laugh in a week. |