It's a Gift
(1934)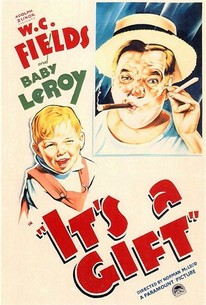 Movie Info
In this film, W.C. Fields is in fine fettle as small-town grocer Harold Bissonette. Harold dreams of becoming an orange farmer, but his gorgon wife will have none of it. After a grueling day at the store, however, Harold announces that he's sold the store and bought an orange grove.
Critic Reviews for It's a Gift
Audience Reviews for It's a Gift
A shop owner comes into an inheritance and moves his family to California. Filled with physical bits and an occasional wise-crack, It's a Gift showcases W.C. Fields's vaudevillian humor. But the bits are in slow motion, like watching underwater comedy, and the wise-cracks aren't all that wise. Some of the - "kumquats!" - moments that thrive on - "kumquats!" - repetition are - "kumquats!" - more annoying than - "kumquats!" - funny. In terms of character development, the stock annoying wife character is never seriously or humorously dealt with, and there's nothing about Harold's character that makes us celebrate his eventual success. Overall, I had hoped to like Fields, who was billed as a equal of Groucho Marx, but I was disappointed.
Jim Hunter
Super Reviewer
½
If you like W.C. Fields films then you will enjoy this one. Not my favorite of his films, but a lot of fun. Fields is a unlucky pushover who dreams of moving to California and owning a orange grove. Along the way his wife nags, kids bother him, he drinks,and he can't seem to get any sleep. It has some great site gags and typical W.C. mumblings that are hilarious. I prefer Never Give A Sucker A Even Break, but this a good one.
cody franklin
Super Reviewer
Oh so funny. Love the orange juice at the end.
Anthony Valletta
Super Reviewer
It's a Gift Quotes
There are no approved quotes yet for this movie.