It's a Mad, Mad, Mad, Mad World
(1963)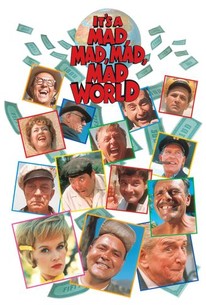 It's a Mad, Mad, Mad, Mad World Photos
Movie Info
With this all-star Cinerama epic, producer/director Stanley Kramer vowed to make "the comedy that would end all comedies." The story begins during a massive traffic jam, caused by reckless driver Smiler Grogan (Jimmy Durante), who, before (literally) kicking the bucket, cryptically tells the assembled drivers that he's buried a fortune in stolen loot, "under the Big W." The various motorists setting out on a mad scramble include a dentist (Sid Caesar) and his wife (Edie Adams); a henpecked husband (Milton Berle) accompanied by his mother-in-law (Ethel Merman) and his beatnik brother-in-law (Dick Shawn); a pair of comedy writers (Buddy Hackett and Mickey Rooney); and a variety of assorted nuts including a slow-wit (Jonathan Winters), a wheeler-dealer (Phil Silvers), and a pair of covetous cabdrivers (Peter Falk and Eddie "Rochester" Anderson). Monitoring every move that the fortune hunters make is a scrupulously honest police detective (Spencer Tracy). Virtually every lead, supporting, and bit part in the picture is filled by a well-known comic actor: the laughspinning lineup also includes Carl Reiner, Terry-Thomas, Arnold Stang, Buster Keaton, Jack Benny, Jerry Lewis, and The Three Stooges, who get one of the picture's biggest laughs by standing stock still and uttering not a word. Two prominent comedians are conspicuous by their absence: Groucho Marx refused to appear when Kramer couldn't meet his price, while Stan Laurel declined because he felt he was too old-looking to be funny. Available for years in its 154-minute general release version, the film was restored to its roadshow length of 175 minutes on home video; the search goes on for a missing Buster Keaton routine, reportedly excised on the eve of the picture's premiere. ~ Hal Erickson, Rovi
Critic Reviews for It's a Mad, Mad, Mad, Mad World
Audience Reviews for It's a Mad, Mad, Mad, Mad World
The movie version of one of those little clown cars that a hundred clowns get in and out of, it descends into pure over-the-top silliness with so many talents vying for the glory-hogging center stage, but nonetheless a landmark simply for the presence of so many talents. What's the best part of gumbo? Of beef stew? Its the combo that makes for sensation.
Kevin M. Williams
Super Reviewer
½
The best American comedy ever made. A true epic of humor, with full of great comedians and unforgettable scenes.
Lucas Martins
Super Reviewer
½
This is the perfect example of an epic comedy, one that spans time, venues, and types of comedy. Other films of this genre include The Blues Brothers and Blazing Saddles, though unlike those this is far more tame. This was in the days of family humor, and epics were per usual with movie going crowds. Still, the characters are larger than life, using a lot of physical comedy, and the exclusively sixties plot device of misunderstandings. The best aspect of having watched so many films is the fact that so many big names came together to do this film, and naming them off as you see them is extremely entertaining. The entire film concerns a milieu of improbable characters who find a dying crook who tells them where he has buried hidden money stolen and untraceable. The band of misfits at first all decide to distribute the wealth accordingly, but after a series of fights they all strike out on their own, some chartering planes, others hitchhiking, all to the amusement of the watching police department in Santa Rosita. This surveillance team is headed by recently retiring and angst ridden Chief Culpepper, played by Spencer Tracy. The two larger than life characters are played by Ethel Merman, a busybody mother-in-law with the loudest yell I've ever heard, and Jonathan Winters, who single handedly destroys an entire gas station through sheer force. Mickey Rooney and Buddy Hackett are the comic foils, oftentimes saying boneheaded phrases, and crashing into things. There's even a very brief yet memorable cameo by Don Knotts, who interacts with Phil Silvers, famous for portraying Sgt. Bilko. There are some great effects, and though it's long for a comedy the full fledged character development and longwinded comedy work with this vehicle. It's zany fun, it's certainly a mad world.
Spencer S.
Super Reviewer
It's a Mad, Mad, Mad, Mad World Quotes
| | |
| --- | --- |
| Benjy Benjamin: | So, now, there's only one way to figure it. And that is every man for himself (points to Mrs. Marcus) Except you, old lady. May you just ...DROP DEAD! |
| Benjy Benjamin: | So, now, there's only one way to figure it. And that is every man for himself [points to Mrs. Marcus] Except you, old lady. May you just ...DROP DEAD! |
| | |
| --- | --- |
| Ding Bell: | We're never gonna get anywhere if we keep listening to this old bag. |
| | |
| --- | --- |
| J. Algernon Hawthorne: | Why Americans are so obsessed with breasts. I say if American women stopped wearing braziers your entire economy would collapse overnight. |
| | |
| --- | --- |
| Capt. C.G. Culpepper: | Billie Sue? Billie Sue where are you? |
| Billie Sue: | I'm at the bus station. |
| Capt. C.G. Culpepper: | Sweetheart what are you doing at the bus station? |
| Billie Sue: | I'm waiting for the bus! |