It's a Wonderful Life
(1946)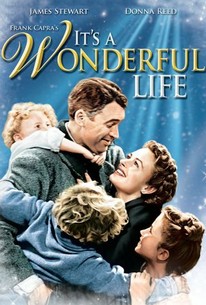 TOMATOMETER
AUDIENCE SCORE
Critic Consensus: The holiday classic to define all holiday classics, It's a Wonderful Life is one of a handful of films worth an annual viewing.
It's a Wonderful Life Videos
It's a Wonderful Life Photos
Movie Info
This is director Frank Capra's classic bittersweet comedy/drama about George Bailey (James Stewart), the eternally-in-debt guiding force of a bank in the typical American small town of Bedford Falls. As the film opens, it's Christmas Eve, 1946, and George, who has long considered himself a failure, faces financial ruin and arrest and is seriously contemplating suicide. High above Bedford Falls, two celestial voices discuss Bailey's dilemma and decide to send down eternally bumbling angel Clarence Oddbody (Henry Travers), who after 200 years has yet to earn his wings, to help George out. But first, Clarence is given a crash course on George's life, and the multitude of selfless acts he has performed: rescuing his younger brother from drowning, losing the hearing in his left ear in the process; enduring a beating rather than allow a grieving druggist (H.B. Warner) to deliver poison by mistake to an ailing child; foregoing college and a long-planned trip to Europe to keep the Bailey Building and Loan from letting its Depression-era customers down; and, most important, preventing town despot Potter (Lionel Barrymore) from taking over Bedford Mills and reducing its inhabitants to penury. Along the way, George has married his childhood sweetheart Mary (Donna Reed), who has stuck by him through thick and thin. But even the love of Mary and his children are insufficient when George, faced with an $8000 shortage in his books, becomes a likely candidate for prison thanks to the vengeful Potter. Bitterly, George declares that he wishes that he had never been born, and Clarence, hoping to teach George a lesson, shows him how different life would have been had he in fact never been born. After a nightmarish odyssey through a George Bailey-less Bedford Falls (now a glorified slum called Potterville), wherein none of his friends or family recognize him, George is made to realize how many lives he has touched, and helped, through his existence; and, just as Clarence had planned, George awakens to the fact that, despite all its deprivations, he has truly had a wonderful life. Capra's first production through his newly-formed Liberty Films, It's a Wonderful Life lost money in its original run, when it was percieved as a fairly downbeat view of small-town life. Only after it lapsed into the public domain in 1973 and became a Christmastime TV perennial did it don the mantle of a holiday classic. ~ Hal Erickson, Rovi
News & Interviews for It's a Wonderful Life
Critic Reviews for It's a Wonderful Life
Audience Reviews for It's a Wonderful Life
Juggling with your emotions union first viewing, you really do not know what kind of film you are in for her. "It's a Wonderful Life" follows George Bailey as he starts up a banking company, get's married, and becomes one of the wealthiest men in town. What is hidden in the background is that his status is all about to change when the company loses all of it's money, right before Christmas. Debating suicide, George is then shown by his guardian angel, what life would have been like for the town if he hadn't been born. The payoff to this film is one of the most emotionally satisfying endings to any film I think I have ever seen. It really makes you appreciate life no matter how harsh, easy, brutal, or depressing it can be. Life can be happy as long as you make it that way. Terrific screenplay, amazing direction, great camerawork, and a cast that brought me to tears by the end, "It's a Wonderful Life" is one of the definitive Christmas movies. Halfway through this film, you may question if it seems worth watching all the way through, because it almost feels like a different film, but it is all worth it in the end. Brilliant film all around.
Maybe considered a timeless classic, however I wish time had moved a little faster during the movie. For me a forgettable movie that drags in places. Huge fan of Stewart, not a huge fan of this movie!
Film Crazy
Super Reviewer
½
Joyous, timeless classic! I can't say I've seen many movies from the 1940's, let alone any Christmas ones, but this was a very pleasant viewing experience, in several senses of the word. James Stewart is fantastic and brings a lot of vigor to his performance, but above all it's got a story that can be applied still today. It isn't confined to the values of the era, as it's broadly and universally human in its message. Basic themes like love, loss, greed and empathy, provides it with a wide spectrum of emotions that we can all relate to in some way (which is pretty amazing, considering it's over half a century old). A riveting, jolly and beautifully narrated holiday tale, that will add some extra lustre to your Christmas.
It's a Wonderful Life Quotes
| | |
| --- | --- |
| George Bailey: | How old are you anyway? |
| Mary Hatch Bailey: | Eighteen. |
| George Bailey: | Eighteen. Why it was only last year you were seventeen. |
| | |
| --- | --- |
| Annie: | I've been savin' this money for a divorce, if ever I got a husband. |
| | |
| --- | --- |
| George Bailey: | Am I talking too much? |
| House Owner: | Yes! Why don't you kiss her instead of talking her to death? |
| George Bailey: | How's that? |
| House Owner: | I said why don't you kiss her instead of talking her to death? |
| George Bailey: | ...You want me to kiss her, huh? |
| House Owner: | Oh, youth is wasted on the wrong people! |