It's All About Love
(2004)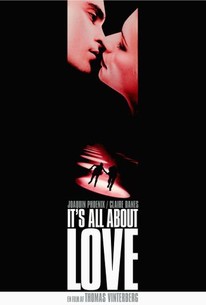 TOMATOMETER
AUDIENCE SCORE
Critic Consensus: It's All About Love has ambitious ideas and an impressive cast, none of which are put to compelling use in this dramatically inert and narratively incoherent sci-fi drama.
It's All About Love Photos
Movie Info
In a near-future world, environmental damage causes flash ice ages and gravity loss, and people who experience devastating grief and loneliness are susceptible to a fatal disease that suddenly freezes the heart--transforming them into human carnage that collects on street corners and airport escalators. On a business trip, John stops over in New York City to sign divorce papers at the request of his ex-wife-to-be, world-famous ice-skating star, Elena. Her enormous entourage greets him warmly, but the kindly looking patriarch of the clan has a malevolent plan of appalling proportions that endangers the lives of John and Elena.
Critic Reviews for It's All About Love
Audience Reviews for It's All About Love
Hey baby, it's all just about the love. Well, Steven Curtis Chapman, I'm afraid I'm going to have to disagree with you there, you Christian singin' dude I've never heard of until I just Googled songs with titles that are something along the lines of "All About Love", because this film certainly didn't get any love from the critics. Richard Roeper notably called it "like Kubrick with a talent-ectomy", which is pretty harsh, because I've seen "Eyes Wide Shut" - and oh boy, did I come back to tell the tale -, and I can certainly tell you how bad a post-talent-ectomy Kubrick film is, like "Days of Heaven". No, "Days of Heaven" was just mediocre as all get-out, rather than all around bad, mostly because it was prettier and about 70 minutes shorter than "Eyes Wide Shut", and also, even it, "a Terrence Malick film", had more of a point. Other than that, however, there were an awful lot of similarities, outside of the fact that those films were both pointless bores, like how Terrence Malick took 20 years off after "Days", and Stanley Kubrick took, well, forever off after "Eyes", if you catch my drift, until about 20 years later, when Spielberg did his big Kubrick homage, "A.I." in... 2001, which was only two years after "Eyes Wide Shut" came out? Well, maybe "Eyes Wide Shut" just felt like it ran 18 years, which is why a lot of faulty dramas that came out after 1999 automatically get a few extra points, based on comparison, even if it was also the year of "Fight Club", which bumped off a couple of points from, well, "every" film after 1999, based on comparsion. Well, needless to say, the "'Eyes Wide Shut' Principle" certainly gave this film an advantage, but, make no mistake, this is quite the faulty drama, though kept from falling apart by other saving graces. Aesthetically, the film really accels, boasting subtle, but eye-catchingly glowing cinematography that gives this film a touch of visual spectacle, while Zbigniew Preisner's fabulous score touches this film with grace and resonance, more than you would expect it to. As I'll get into later, the film's tone is all over the place and tainted by overambition; but where most films this tonally messy would have all but, if not certainly fallen apart, Preisner's striking musical taste, while sometimes manipulated as a supplement to the overbearing tone, more often than not, keeps the film as down to earth as it can get it, and does so with grace upon the ears so sensational that, from time to time, the film's fauty underwhelmingness falls away for an all too brief moment of genuine charm or even emotion, especially at the admittedly moving ending. Still, the true saviors of the film are the people that bring grace to the screen, while on it, with a cast featuring such people as Joaquin Phoenix, Claire Danes and even Joaquin Phoenix in some parts, really, it should almost go without saying that the acting is excellent. If there's anything that our leads have in common, outside of the simple fact that they're all brillaint, it's the nailing of accents, something that I just have to bring up, because I'm quite impressed with the very unique, delicate subtlety in the execution of those accents, making them all the more realistic and the performers all the more impressive, because a shift in pronounced accents is difficult enough, let alone when it's subtle, and all of our performers nail it. Other than that, few, if any two performances are exactly alike, with Joaquin Phoenix powerfully playing a confused and well-intentioned man facing life-changing, if not life-threatening circumstances and Claire Danes soulfully playing a fearful, as well as hopeful, though still consistently breaking spirit. Most all performance are good, but it's our moving leads that really do their best to bring the film to life, making them, quite likely, the biggest saviors of the film, as they are charismatic, subtle, graceful, compelling and, most impressively, don't come off as bad, which I know sounds like bizarre redundance, but really, with a script and editor like this, for all extents and purposes, the acting should look as much like a piece of Amateur Hour (and-a-Half) as the rest of the film, outside of the cinematography and score. Sure, the film is ultimately watchable for its beautiful style and excellent performances, but on the whole, this film is a mess of its own ambition, and it doesn't help that it doesn't even come close to reaching those ambitions, or at least not from a technical standpoint. Okay, outside of that bad CG plane that stays way too long when it occasionally pops in, or the editing, the technical value is reasonably impressive, except when it comes to the editing, which messy in a way that's sometimes difficult to notice, though still often faulty, nevertheless, with a good couple of moments where the faultiness is really glaring. The hit-or-miss technical aspects, alone, reflect the incompetence in the film, though not quite as much as Thomas Vinterberg's direction, which kind of justifies my talking too much about "Eyes Wide Shut", because, while Vinterberg's direction doesn't fall that amazingly flat, oh boy, does it hit the ground hard, and in an all too similar fashion. Vinterberg drenches the film in too much artistry, making the meditative points of sobering style sappy and pretentious, and the moments of exposition and plot - such as it is - overbearingly melodramatic, ultimately leaving the film consistently rather dull. Of course, ladies and gentlemen, the consistency ends there, because the tone of the film is all over the place, going from being an overly sober dramatic piece, to a rather far-fetched thriller piece, and even some kind of a stylized sci-fi piece, and doing it all so abruptly, limply and jarringly that, after a while, which ever tone the film falls upon goes rather limp, thanks to Vinterberg's overbearing overambition. Still, it's not like his ambitions are terribly justified, because while his execution of the concept is certainly spotty, it's a messy concept to begin with, and made more so by Vinterberg's and Mogens Rukov's just as, if not more messy screenplay, which can't even provide simple dialouge pieces without it feeling awkwardly sudden and all over the place in mood. Still, it's the screenplay's story structure that stings the most, for although Vinterberg, as director, slips on tonal consistency and most ever turn, he's certainly not help by the fact that not even his and Rukov's script can't even figure out what it wants to be or do, going plauged by inconsistent focus on various borderline contradicting aspects, and yet, what is consistent about the script is the fact that, like the film, which ever aspect it does focus on, it falls short of delivering on. Really, I know that it sounds like I'm building up a bash down on this film, yet I still stand by the style and performances as saving graces that stand as strong enough to not simply save the film, but make it rather watchable, though just barely, because, at the end of the day, this film is a sloppy mess of failure of ambition that was never really all that high in the first place. When it's all said and done, the handsome cinematography, touching score and fine performances - particularly those by the charismatic, soulful, versatile and generally powerful leads, Joaquin Phoenix and Claire Danes - pump this film with just enough impressive quality, as well as the ever so occasional golden moment of genuine resonance, to save it and make it rather watchable, and yet, even with all of the style and acting grace that saves the film, some shoddy editing taints Thomas Vinterberg's overambitious vision, though not nearly as much as Vinterberg, himself, both as director and writing partner to Mogen Rukov, with whom Vinterberg turns out a spotty, limp and wildly inconsistent screenplay, made all the sloppier by Vinterberg's dull, tonally uneven and generally pretentious direction that helps in making "It's All About Love" a messy, unrewarding piece of mediocrity, even with its just effective enough saving graces. 2/5 - Medicore
Cameron Johnson
Super Reviewer
In "It's All About Love," John(Joaquin Phoenix) is stopping over in New York on his way to Calgary to meet with his wife Elena(Claire Danes), a five time gold medal winning figure skater, so she can sign divorce papers. Instead, he is met by Arthur(Mark Strong) and George(Harry Ditson) who tell him that she cannot make it due to a scheduled performance in the city, getting him to agree to spend the night in the bargain. Just don't mind the dead guy at the bottom of the escalator. Happens all the time. The following day on the way to the Metropolitan, John persuades Elena to take a detour with him to Williamsburg. Even then, they are still being followed... While still pretty much a bad movie, it is also almost impossible for me to hate something as warped as "It's All About Love." This might just be a prime example of something that sounded good when proposed but could not be made to work on the screen. The movie's central problem is its romance which is usually what grounds a movie like this but is in fact the heart of the insanity. While Danes and Phoenix look good together, it took me a while to realize their halting speech was a result of their futilely attempting Polish accents. And don't get me started on Sean Penn attempting an Italian accent.(If any of you know where I can get any of that fear of flying medicine, please get in touch with me.) By comparison, the largely British supporting cast fares well. Additionally, with the exception of an invention integral to the plot, the movie provides little insight into what the world may look like in 2021. In any case, I think Africa will have worse problems than people levitating. All I know for sure is the only places in New York City where someone will be able to smoke are Riker's Island and a barge in the East River. Come to think of it, everybody smoking is probably what's causing all of the hearts stopping.
It's All About Love Quotes
There are no approved quotes yet for this movie.