It's for Your Own Good (Es por tu bien)
(2017)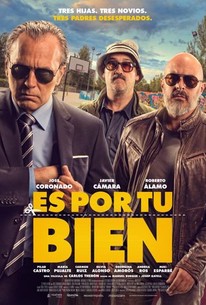 It's for Your Own Good (Es por tu bien) Photos
Movie Info
Three parents, Arturo, Poli and Chus, see their biggest nightmare come true: their three precious little daughters have grown too fast. And what's worse: they've all gotten a despicable boyfriend and want to present it to the family.
Critic Reviews for It's for Your Own Good (Es por tu bien)
Audience Reviews for It's for Your Own Good (Es por tu bien)
½
I'm not a parent, and I doubt that I'll ever be one, but I can imagine that a good percentage of parents, not gonna say all because, sadly, that isn't always the case, are always gonna try to do the best for their children. That's all that you can, really, ask of any parent. You're not gonna be perfect and there's gonna be moments when you mess up, but what matters is that you try your best to raise your child to be a quality human being. While, again, I have no children (unless you count cats, which you don't), I am also of the belief that you cannot control your children 100%. What I mean by that is that, of course, you should try to guide them from a negative path, but you also have to let them make their own mistakes. Let them figure out for their own what they want their life to be. The moment you start interfering with that, that's the moment that you push them toward the same thing that you're trying to keep them from. It's a sign of rebellion, naturally. If my parents don't approve of something, the more likely I am to do it. That's, more often than not, the teen mentality. It's just the way life is. And this movie explores that. Though, to be fair, this whole 'father doesn't approve of daughter's boyfriend/fiance/husband' has been done plenty of times in the past. Father of the Bride, Meet the Parents come to mind. Why Him is a recent example of this movie. It's a recipe that might not always be creatively flourishing, but one that, more often than not, seems to be successful at the box office. That's why you see one of these every couple of years. It's just something easy, familiar and reliable. Even if you might not be a good movie, you can, at least, get a few chuckles if you're clever enough. I'll be honest, though, the only reason I gave this a shot is because Javier Cámara (who was the lead in the previous movie I saw) was in this. I looked up his name in Netflix and found this. And that's it, that's what motivated my decision, nothing else. I honestly don't think I would have known about this film's existence if it wasn't because I searched for his name. It just wasn't on the radar anywhere on Netflix for me. And, probably, for good reason too. Not to say the film is bad, because it's surprisingly decent, it's just that it plays into every stereotype associated with this genre. Only exception is that there's three fathers trying to break up their respective daughters' relationships instead of one. Jesus' daughter is a goody-two shoes so, naturally, her boyfriend is a bad boy who influences her and causes his daughter to slack in school. Jesus also treats his daughter with kid gloves, preferring to be her friend as opposed to her father, who disciplines her when he must. Arturo's, a rich lawyer who's pro-monarchy, daughter gets together with an anarchist hippie who opposes everything Arturo believes in. From the monarchy, to marriage, to religion, to having children. They butt heads at every turn. Poli's, who has anger issues, daughter dates a man who used to go to school with him, who now does artful photographs of the female form. So you can see how everything lined up the way you would expect given the personalities of the daughters and the fathers involved. There's no real difference in the way this story is told, they team up to disrupt their daughters' relationships. Part of me gets the whole wanting to be protective of your daughter, feeling that you know what's better for her, but the fact of the matter is that trying to disrupt their life or the choices they want to make over who to be with on a romantic level is only causing them harm. That's why the logic behind these movies never work, to me. You want to break up your daughter's relationship by hurting her. How does that make anyone a good parent??? You're only doing this for your own peace of mind and benefit. And, really, that's what these movies are designed to do anyway. It's meant to show how erroneous it was on the parents' part to stick their noses where they didn't belong. Interfering in their lives only ended up pushing the women they most love away from them. Having said that, this is still a perfectly decent movie. And, as far as fathers fixing their mistakes is concerned, this one is probably one of the best I've seen. Not that that's saying much, but it still is. I just wish the movie had been a little more...I don't know, tactful. Because Poli, Arturo and Jesus come across as insufferable for most of the movie. And, again, I get that that's the point, but it would also serve the characters better if they really came across as actually concerned fathers. Instead they just came across as controlling and dominating assholes who want their daughters to date someone that they approve of. It is what it is and I guess making these three insufferable makes the climactic act all the more satisfying. The acting is solid, of course. And the writing is nothing to write home about, but they do get a few chuckles out of the premise. The movie definitely benefits from a lighter tone. Not to say it nullifies the flaws, but the fact that this is an extremely easy watch is one point in this film's favor. I don't know what else I have to say, just that this was a perfectly decent movie that plays into every stereotype associated with this type of flick. I can't say that I'd fully recommend it, thanks to some logic flaws in its concept presentation and some characterization issues, but this is a watchable and average diversion if you want something that's not gonna challenge your brain.
Jesse Ortega
Super Reviewer
It's for Your Own Good (Es por tu bien) Quotes
There are no approved quotes yet for this movie.