It's Pat
(1994)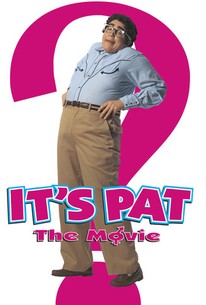 Movie Info
Who and what is Pat? That is what everyone in this little comedy is trying to find out. "Pat," the little androgynous character created by comedian Julia Sweeney, first appeared in a series of sketches on the TV show "Saturday Night Live." Like the early sketches, the film focuses on people's attempts to determine Pat's true gender.
Critic Reviews for It's Pat
Audience Reviews for It's Pat
Until the end, nobody want to know what it's Pat.
Lucas Martins
Super Reviewer
This movie is just as outrageous and creepy as the SNL skits that spawned it, well maybe even more creepy. I didn't find Pat very funny on the show, and if you didn't either, I would not recommend this movie.
This movie is totally hilarious! I love that they made an entire movie which begs us to determine whether "Pat" is a boy or a girl. SHe's so creepy, and Julia Sweeney played her/him wonderfully. The ending is classic, when Pat is revealed nude to the entire audience at a rock concert, but we don't get to find out. This is more than a one joke movie; we also have jokes about Pat's partner Chris, who is just as androgynous. We have jokes about how rude and inconsiderate Pat is with other people. We have the an excellent plot about Pat's neighbour Kyle, who is obsessed with everything Pat. We have the plots about Pat's inability to keep a steady job... I think this movie is very underrated and hilarious.
Lafe Fredbjornson
Super Reviewer