Jack and Jill
(2011)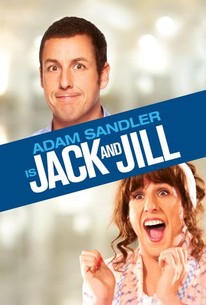 TOMATOMETER
AUDIENCE SCORE
Critic Consensus: Although it features an inexplicably committed performance from Al Pacino, Jack and Jill is impossible to recommend on any level whatsoever.
Movie Info
Jack and Jill is a comedy focusing on Jack Sadelstein (Adam Sandler), a successful advertising executive in Los Angeles with a beautiful wife and kids, who dreads one event each year: the Thanksgiving visit of his twin sister, Jill (also Adam Sandler). Jill's neediness and passive-aggressiveness is maddening to Jack, turning his normally tranquil life upside down. Katie Holmes plays Erin, Jack's wife. -- (C) Sony Pictures
News & Interviews for Jack and Jill
Critic Reviews for Jack and Jill
Audience Reviews for Jack and Jill
What is something I can say that has absolutely no negative connotation connected to it? This...exists. A painful, idiotic ploy to get more money with zero effort, Sandler has certainly gone off the deep end with this egomaniac venture. (I prefer not to call this a film, as that would be recognizing it as a form of artistic expression, which would be misleading.) We all understand that this had little to no comedy involved, but worse than that the plot is nonexistent. There are no stakes, no climax or even a plausible ending. Really it's a man and himself, dressed in drag, fighting with one another. The jokes are really juvenile with no buildup or even start, because it's oh it's funny because she's old. Oh, it's funny because she's fat. (RedLetterMedia) Then, for no reason whatsoever, you have a long cameo from Al Pacino, a man who hasn't put in a bad performance, possibly in his entire life. What's good is that Pacino actually gives the best reason to see this, and that is him being a overexaggerated and eccentric version of himself. There's also a minor and not too original Mexican character named Felipe, played by Eugenio Derbez, who has the same quirky likeability as many of Sandler's original films. Still, there is no heart, no humor, or even effort put into this and I would love to hear him take some responsibility for his films again. I thought Grown Ups at least knew what it was and had a lot of talented people involved to make up for some of its flaws. This movie didn't surprise me because he had building up to it with atrocious choices. Funny People and Spanglish were his last best films, and it hasn't been since the early two thousands that he has made a goofy comedy that worked. Just awful, but at least I watched it at no cost to myself.
Spencer S.
Super Reviewer
I was anticipating bad, I was anticipating outlandishly bad, but nothing can prepare you for how stunning and jaw-droppingly awful Adam Sandler's reported comedy Jack and Jill truly is. The movie swept the Razzie Awards in all categories this year, a historic feat. Sandler plays a rich ad exec and his braying, boorish twin sister, who Al Pacino, in a strangely committed performance as himself, falls in love with for no discernable reason. I've seen my fair share of craptacular cinema, and yet this movie is bad on a rarely seen level of human tragedy; it feels like the movie came from a different dimension, where they had no concepts of human relations, reactions, expectations, or senses of humor. It feels like you're watching a cultural artifact of a civilization in decline. I haven't been a fan of Sandler's brand of naughty-yet-safe humor for a while, but this movie is weirdly cruel to all sorts of people, like Mexicans, atheists, adopted kids, Jews, and human beings with working senses of humor. The quality of comedy includes gems like, "Play twister with your sister," and, "These chimichangas are making a run for the border." The rampant and nakedly transparent product placement for Carnival Cruise and Dunkin' Donuts is obscene. This is a charmless, witless film, and when it tries to wring actual emotion out of its daft scenario, the whole enterprise just implodes. Jack and Jill is so odious, torturous, reprehensibly bad that it feels like one of the joke movies that Sandler made in 2009's Funny People. You feel like the entire movie is one long joke put on by a contemptuous Sandler. I think my good pal Eric Muller had it right; we're on the tail end of Sandler's deal with the devil. Jack and Jill is why the terrorists hate us. Nate's Grade: F
Nate Zoebl
Super Reviewer
I don't think it would be a shock to anyone that this is a really bad movie. It looks awful, I only watched it to see just what level of awful. Pretty much it is Adam Sandler in drag playing his own twin sister. He is a horrible woman. He is unattractive enough as a man, so slap a dress on him and you get the idea! Totally unconvincing with a shrill "girl" voice (also unconvincing). Seriously, it is like he didn't even try to pass as a woman. Having said that, it is watchable, in a crap movie kind of way. Certainly was an improvement on "Grown Ups" (but that's really not saying a whole lot). I don't know why I even keep watching his movies. I guess I keep hoping for another The Wedding Singer or Punch Drunk Love. (I can keep looking, obviously wasn't too likely to find it here!). Katie Holmes plays his wife. She looks like his daughter.
Nicki Marie
Super Reviewer
Jack and Jill Quotes
| | |
| --- | --- |
| Jill Sadelstein: | (to Otto) You don't look homeless to me, you're fat! You're Al Quida! |
| Jill Sadelstein: | [to Otto] You don't look homeless to me, you're fat! You're Al Quida! |
| | |
| --- | --- |
| Jill Sadelstein: | "Mom always said it's better to have it and not need it than to need it and not have it" |
| Jill Sadelstein: | Mom always said it's better to have it and not need it than to need it and not have it. |
| | |
| --- | --- |
| Jill Sadelstein: | WHERE WERE YOU?!?!?!? |
| Jill Sadelstein: | WHERE WERE YOU? |
| | |
| --- | --- |
| Jill Sadelstein: | Are you going bald? |
| Jack Sadelstein: | Huh? |
| Jill Sadelstein: | No, no, no, no, you're getting fatter, and your hair doesn't realize it needs to cover more face. |
| Jack Sadelstein: | Okay. |