Jack and Jill vs. the World
(2008)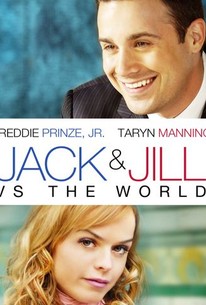 Jack and Jill vs. the World Photos
Movie Info
A man learns about life and love from someone who has only so much of each to spare in this romantic comedy-drama. Jack (Freddie Prinze Jr.) is an advertising executive in his early Thirties who has grown jaded before his time; he devotes his life to his work but doesn't believe in it, and is trapped in a cycle of habits and routines. One day, Jack meets Jill (Taryn Manning), a beautiful young woman who clearly has no idea how to get around New York; Jack helps give her directions and is soon taken by her charm and enthusiasm for life, even if he's too cynical to share her sunny optimism. Learning that Jill needs a place to stay, Jack offers to let her stay at his place, and while the arrangement is meant to be platonic, it doesn't take long for a romance to blossom between them. Jill encourages them to develop a manifesto for responsible and compassionate living and Jack's heart begins to open up, but when Jill begins disappearing in the evenings he suspects that something is wrong. While Jack imagines at first that Jill's met someone else, the truth is more serious -- she's living with cystic fibrosis and despite regular treatments has only so much time left. Jack and Jill Vs. The World was written, produced and directed by Vanessa Parise, who also appears in the supporting cast with Robert Forster and Charles Martin Smith.
Critic Reviews for Jack and Jill vs. the World
Audience Reviews for Jack and Jill vs. the World
½
Didn't mind this one. Harmless piece of fluff. I didn't buy Freddie and Taryn as a couple at all though. I actually don't mind her as an actress, but she does seem a little brassy for this role. Having said that, she is very good in it as is Freddie.
Nicki Marie
Super Reviewer
Typical FPJ movie...he's just not a very good actor. Tarryn Manning is actually pretty bad too. Some parts were cute/funny, but it was blah for the most part.
Erin Collins
Super Reviewer
½
An interesting movie with a good story plot. A bit on the quirky side, although it lacks a bit of chemistry between the two. Interesting characters, but the two appear more as friends than lovers. Not bad. It's great to see Freddie Prinze Jr. in a movie like this again. An enjoyable character. Phenomenal music. ~~~~~~~~~~~~~~~~ Wow!! Just learned something here, Hannah Lochner and I both have the same birthday.
Jack and Jill vs. the World Quotes
There are no approved quotes yet for this movie.