The Jack Bull
(1999)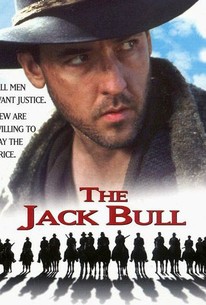 Movie Info
John Cusack plays Myrl Redding, a horse trader who locks horns with a rancher who has callously mistreated two of his horses, as well as their handler, a Crow Indian. When the law gives Myrl no justice, he is forced to take matters into his own hands, leading to a cycle of violence and chaos. The Jack Bull was written by Cusack's father, Dick, who also plays a small part as the jury foreman in the film.
Critic Reviews for The Jack Bull
Audience Reviews for The Jack Bull
½
The Jack Bull is a fantastic western made almost perfect by John Cusack and John Goodman. That HBO took on the project is no surprise, Hollywood rarely touches this sort of libertarian-themed material anymore. The story itself is really a simple morality tale, but one in which realism carries the day. Great acting, script, and moving story make this a must see.
Jeffrey Meyers
Super Reviewer
½
Definitely remember this movie!
I hate John Cusack. He turns in the exact same performance in every single role with his blank stare, fast delivery and shoulder-shrugging indifference and somehow manages to receive extreme critical acclaim. He is miscast in the central role here, but surprisingly tries to do something ever so slightly different. I didn't buy it for one second, but hey, it's John Cusack. I never would have. This film is a typical western with some very beautiful photography. It actually feels like Wyoming, the dry land, the snow, the dust, the vegetation. The problem is it is never very engaging. The first 45 minutes are flat while the last hour or so is a morally confused mess preaching vigilantism and overkill. Part of the problem is the direction. It is pedestrian, bland, never involving nor, of course, even remotely exciting, and the rest of it is probably the script. It makes very little sense for Myrl to do what he does when there are many other ways he could have achieved the exact same result, his speech on how the law failed him (echoed by John Goodman's character) is ridiculous, and by the end of the film he has done far worse than Henry Ballard ever did to him, despite what the direction and the score would like to have you believe. I can't say it was exactly a disappointment (it's a John Cusack vehicle, after all) but it was certainly not very good.
The Jack Bull Quotes
There are no approved quotes yet for this movie.