Jack Frost 2: Revenge of the Mutant Killer Snowman
(2000)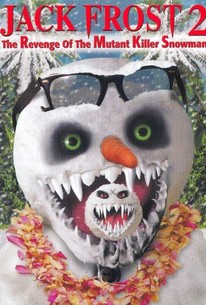 AUDIENCE SCORE
Critic Consensus: No consensus yet.
Jack Frost 2: Revenge of the Mutant Killer Snowman Photos
Movie Info
Snowmen just don't get more abominable than the frozen serial killer in this tongue-in-cheek sequel to the cult horror hit Jack Frost. Sam (Christopher Allport) is still a bit spooked after his encounter with Jack Frost (Matt Falletta), a bloodthirsty snowman posessed by the spirit of a mass murderer. However, his wife, Anne (Eileen Seeley), convinces him to go on a vacation in the tropics to attend a friend's wedding, reasoning that a snowman who's already been destroyed by anti-freeze couldn't survive long in 80 degree heat. But Anne has seriously underestimated Jack's tenacity; thanks to a scientific experiment gone wrong, Jack appears on the island and starts picking off tourists one by one, leaving it to Sam to defeat the winter wonder all over again. Jack Frost 2 also features Ray Cooney and David Allen Brooks.
Critic Reviews for Jack Frost 2: Revenge of the Mutant Killer Snowman
Audience Reviews for Jack Frost 2: Revenge of the Mutant Killer Snowman
When it comes to a film where the snowman is the killer, you can't take it seriously whatsoever. This sequel is just as satisfying as the original with even more tongue in cheek moments to be had on screen. This film is a lot of fun, and has the B movie flav0or that cult horror fans want. Sure the film is uneven, often with flaws, but this wasn't meant to be a film that would go on to win Oscars, now is it? This is simply meant to be a fun horror comedy, and it definitely delivers. The film is of course not excellent, but for a B movie, it's pretty good. I enjoyed this sequel as much as the first. This sequel is very much like the first, it's silly, good fun and it's not meant to be taken seriously. I like both Jack Frost films because I think the idea of a killer snowman is simply an amusing idea, and it makes a fun little comedy horror film. The film has its flaws, but manages to still be entertaining due to its interesting ideas that have been explored in the first film. For a B movie sequel, I was surprised I enjoyed this film as much as the first one. I guess the idea behind the plot is what makes this film worth seeing. If you love these types of films, then this sequel along with the first film, are must see films. The films may not be anything great, but they do bring on a few good laughs and are some of the most original Horror comedies to come along in a while.
½
A sequel just as bad as the original, which is just great. The same sense of humour and a bizarre set of characters that put most films to shame. Highlights include the baby balls, Jack's Achilles Heel, and the explanation for a characters change in appearance. If you enjoy laughing with films, then Jack Frost is for you. Despite all this, you still feel as though it isn't as great as it could have been, especially with many deaths seeming truncated.
Luke Baldock
Super Reviewer
½
Even though I JUST rated this, it was fun. I like the snow ball babies, but didn't like that he's magically immune to anti-freeze all the sudden.
Curtis Lilly
Super Reviewer
Jack Frost 2: Revenge of the Mutant Killer Snowman Quotes
There are no approved quotes yet for this movie.