Jack Goes Boating
(2010)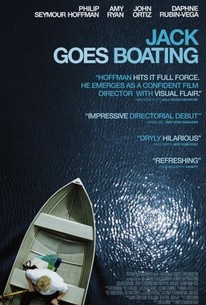 TOMATOMETER
AUDIENCE SCORE
Critic Consensus: It's made the journey from stage to screen somewhat worse for wear, but Jack Goes Boating remains a sensitive, well-acted character study.
Movie Info
Adapted from Bob Glaudini's play of the same name, Philip Seymour Hoffman's directorial debut, Jack Goes Boating, tells the simple tale of Jack (Hoffman), a shy, fortyish limo driver with a fondness for pot and reggae music -- he likes it because it sounds happy -- who meets Connie (Amy Ryan) for a blind date set up by Connie's co-worker Lucy (Daphne Rubin-Vega), who is married to Jack's best friend and fellow limo driver, Clyde (John Ortiz). As the young couple tentatively come together, breaking through layers and layers of awkwardness and low self-esteem, Clyde and Lucy's marriage begins to dissolve because of Clyde's inability to get over an incident from their past. All the while, Clyde gives Jack swimming lessons so that he can take Connie on her dream date -- a boating trip on the lake. ~ Perry Seibert, Rovi
News & Interviews for Jack Goes Boating
Critic Reviews for Jack Goes Boating
Audience Reviews for Jack Goes Boating
A film about ordinary people - perhaps they get a bit angrier about their lot in life than some of us do. The characters are struggling with their relationships, and we follow them as they move forward.
Throughout the years - either in leading roles like "Love Liza" "Capote" and "Doubt" or supporting roles such as "Boogie Nights" or "The Big Lebowski" - Philip Seymour Hoffman has always delivered consistency. As a result of this, he has become one of my favourite actors and like many respected performers he now takes his first step into directing. For his material, he chooses a play that he's familiar with (and one that he performed off-broadway). Wisely, Hoffman behind the camera doesn't go for anything flashy but instead, delivers a solid low-key character study. Jack (Philip Seymour Hoffman) is a lonely chauffeur to Manhattan's upper middle classes. He takes comfort in his reggae and secretly wants to a Rastafarian. He also possesses a shyness which leaves him with very few friends. The one's that he does have, are his neighbours Clyde (John Ortiz) and Lucy (Daphne Rubin-Vega). Playing match-maker, Lucy introduces him to another of life's shy souls; Connie (Amy Ryan). As they awkwardly attempt to make a connection, they find that life doesn't always have to be a struggle. It's because of the range and high level of Hoffman's performances that I was so eager to see how he faired behind the camera. Now, this isn't a film that will instantly have you singing his praises from the rooftops but what it is, is a slow moving but deeply involving drama that pays attention to it's characters and their subtleties. This film is in no rush whatsoever but it's all the better for it. It allows us to completely get inside the minds and the hearts of the characters and allows the actors (in this case, four of them) to take centre stage and provide the goods. In keeping with playwright Robert Glaudini's off-broadway show, Hoffman casts the same actors; John Ortiz, Daphne Ruben-Vega and himself all reprise their roles. They all seem on very comfortable ground and new arrival Amy Ryan, no less so. Ultimately, this is a film about performances and they are all uniformly brilliant. They deliver vulnerable characters at odds with themselves and the world, showing extensive ranges of loneliness and weary outlooks. An emotive and pragmatic slice-of-life that's strictly for lovers of slow moving cinema. Some may find it tentative or cloying but I found it showed an awareness from a welcome new director.
Mark Walker
Super Reviewer
Directed and starring Phillip Seymour Hoffman, Jack Goes Boating tells an interesting tale of love found and lost - using the parallel tales of Jack (Hoffman), a rather simple minded guy who is courting a damaged woman (terrific portrayal by Amy Ryan), and the couple who play matchmakers, while their own marriage dissolves, due to infidelities real and perceived. Jack is an interesting character study, the kind of quirky dude that Hoffman plays so very well. He appears to be a fish out of water, and yet there's a certain nobility in his steadfast desire to learn and better himself - if nothing more than because he perceives that Ryan is requiring it of him. For example, the title of the film - after meeting in mid-winter, Ryan says that she'd like to go boating some time. This refers to the romantic image of man and woman in a row boat, drifting on a tranquil lake on a warm summer's day. Jack tells her he'd like to take her, but when it gets warmer. Unfortunately he can't swim, so the concept of being in the middle of a lake in a small craft scares him. The solution: he enlists his buddy and fellow limo driver Clyde (another wonderful performance by John Ortiz), to teach him how to swim. Clyde is a true friend, who revels in Jack's courting, even while revealing to Jack that long term relationships aren't all they're cracked up to be. His attempts to wipe the mutual deeds of the past away concerning both he and his wife Lucy (an uneven performance by Daphne Rubin-Vega) are almost heartbreaking - he has forgiven her, but she can't do the same for him. Hoffman's directing debut of this stage adaptation is a mixed bag. He shows glimpses of imagery, but remains too tied down to the linear presentation of the story while lingering too long on silent shots meant to convey deep meaning. Conversely he plays too fast and loose with some of the scenes, like cutting into the bedroom where Jack and Ryan have just had their first, aborted attempt at sex. It is revealed that Ryan is psychologically damaged (which the film infers earlier, yet never delves into why) - and yet the entire scene plays as a quirky mess, having no prior setup to ground it. This is the type of film adaptation where I was wondering just how it would be presented on stage. Sure, it's a small, indie type film, but the action seems so over drawn and drawn out that you wonder how it would present over two or three acts.
paul sandberg
Super Reviewer
Jack Goes Boating Quotes
| | |
| --- | --- |
| Connie: | In a bathtub, I imagined I was with you. |
| Jack: | You took a bath? |
| | |
| --- | --- |
| Jack: | Don't worry, I'm a good swimmer. |
| Connie: | I knew you'd be good. |