Jack the Bear
(1993)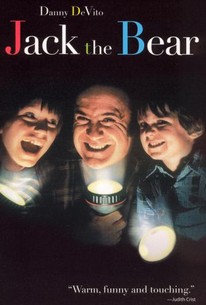 Movie Info
Danny DeVito stars as John Leary, an alcoholic TV horror-movie host attempting to raise his two boys after the death of his wife.
Critic Reviews for Jack the Bear
All Critics (17) | Top Critics (3) | Fresh (5) | Rotten (12)
What works is, first of all, the DeVito performance as a driven man in a ridiculous job who loves his children but has lost his bearings.

Danny DeVito gives the most compelling performance of his career in a gripping drama about a single parent and his two sons.
The film's episodic nature tends to undermine its impetus and the final quarter seems tacked-on, almost like it belongs in some other movie. In short, it suffers from trying to do too much.
Audience Reviews for Jack the Bear
I was happy to see that another reviewer equated this movie to 'To Kill a Mockingbird'. While 'To Kill a Mockingbird' is a classic on a much larger scale, both movies depict small children coming of age, innocent but exposed to prejudice, and mother-less with a caring father. The way the author shows moments of childhood is raw, not over-stated, or "Hollywood"... just honest. However, I did not like the title. It was a turn-off. Nor am I a Danny DeVito fan, but I did like him in this movie. Glad I watched this movie anyway. Many people rave about DeVito's acting, but it was the two children who amazed me. HOW did they get a toddle to act so naturally?!? Usually, little kids over-act (and are annoying), but not these two. When older brother stuck his younger brother by the evil dogs, the toddler cried in fear, and it was so realistic, it was frightening. And when the older boy cried, "Daddy!" on the tree limb near the end, again, it was so realistic, so it wasn't corny. However, there were a few flaws. Mostly, the older brother's haircut was painful to see. And when the children were laughing hysterically to DeVito's jokes, it felt a little forced, because he wasn't that funny. And why did the girlfriend dump Jack so suddenly? Maybe because this is what happens in real life, and this movie was all about r-e-a-l l-i-f-e... no Hollywood. That's also why it had a Mockingbird feel.
what a terrible film now danny devito is brilliant and its a pretty decent filkm if it was just kept to having a dad who clearly is dipresses becuase of the loss of his wife so he turns to drink so the elder brother then fills as though hes got a lot o his shoulders as he has to look after the house and his brother whilst trying to convince his dad it will get better and tey can move on and be a happy familar now that would have beeen a really good heart warmiong movie with a pretty decent storyline but they bring in a caracter which is played by gary sinise who is a veteran and a bit of a weirdo who is a racist and clearly has issues and his character is just so pointless and makes the storyline so much more confusing as your thinkning well wht did e have to do with it all! so its watchable but really should have been better
Film Crazy
Super Reviewer
Great movie! Love the music in this film!
Jack the Bear Quotes
| | |
| --- | --- |
| Jack Leary: | I didn't know yet what I was going to learn that year--that monsters were real. |