The Jackal
(1997)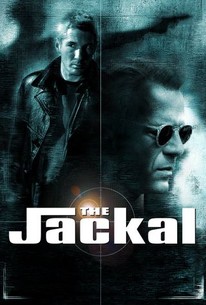 Movie Info
In Moscow, after FBI deputy director Carter Preston (Sidney Poitier) and scarred Russian intelligence officer Valentina Koslova (Diane Venora) bring down a key figure in the Russian Mafia, they are threatened by the criminal's powerful brother who swears vengeance on the FBI and immediately hires a professional assassin, the Jackal (Bruce Willis) to kill a leading American political figure. A master of disguises, the Jackal believes in total perfectionism and demands $70 million for the job. The FBI suspects the Jackal is aiming for the FBI director, so they consult with former Basque terrorist Isabella (Mathilda May), in Virginia, and Isabella's former lover, IRA operative Declan Mulqueen (Richard Gere), serving a prison sentence. Promised leniency, Mulqueen agrees to help. Meanwhile, the Jackal prepares false passports, secures a customized computer system to run his Gatling gun, and heads toward his target in Washington, D.C. ~ Bhob Stewart, Rovi
Critic Reviews for The Jackal
Audience Reviews for The Jackal
Bad movie, bad review. Rotten.
Lucas Martins
Super Reviewer
½
A cold blooded professional assassin is hired by the Russian mob and a joint FBI-Russian secret service task force race against time to prevent him from reaching his target in the USA. Allegedly a remake of The Day Of The Jackal, this film actually has very little in common with it. The original was a study of an ice cold killer who always kept two steps ahead of the authorities and is unusual for its distinct lack of action. This is more like a cross between In The Line Of Fire and The Rock with the American studio system unwilling to go without a pointless explosion or irrelevant car chase at strategic intervals. Bruce Willis was a very odd casting choice for the part, usually relying on his charm and quips but some dodgy hairstyle choices aside, he is reasonably OK. Sidney Poitier is as reliable as always as the pursuing FBI agent and is nicely complimented by Diane Verona and Richard Gere whose Irish accent is almost bearable (compared to some of the others I've heard in this type of film. Blown Away for example...) Whether you enjoy this film or not is going to rely entirely on if you can swallow the glaring absurdities of the plot; namely the fact that all these international terrorists seem to know each other as if there is some Al-Qaeda social club where they all share eggnog at christmas or something, the implausible final confrontation and the vendetta between the central characters which completely misses the point of the original. All in all, it's just another silly Hollywood action thriller and if that's what you expect then that's what you'll get.
Great thriller with a great performance by Bruce Willis and Richard Gere. Full review later.
Thomas Bowler
Super Reviewer
The Jackal Quotes
There are no approved quotes yet for this movie.