Jackass 2.5
(2007)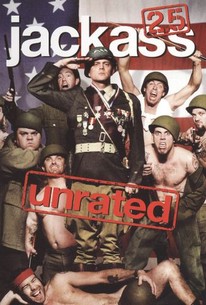 AUDIENCE SCORE
Critic Consensus: No consensus yet.
Movie Info
Johnny Knoxville and company return in this Internet-distributed sequel featuring original footage and previously unused outtakes from Jackass 2. Produced by Paramount Studios for less than two million dollars and tied in with the launch of /jackassworld.com -- an online community featuring blogs, archived episodes of the MTV series, and original content -- Jackass 2.5 premiered on December 19, 2007, as part of Blockbuster Video's Movielink service and marks the first time a major motion picture studio has premiered a feature film online.
Critic Reviews for Jackass 2.5
All Critics (3) | Fresh (0) | Rotten (3) | DVD (1)
The Jackass series officially runs out of steam with this exceedingly weak entry...
Jackass 2.5 is little more than a slapdash attempt to keep public interest in the franchise until the third movie goes underway (and it is coming).
Audience Reviews for Jackass 2.5
Mediocre film comprising from footage of Jackass 2 is nothing new or funny. The reason this footage didn't make it into the final film was because most of it wasn't funny, and should have been released as a sequel to the second film under the name Jackass 2.5. The stunts in this film are pretty forgettable and not really worth checking out. The first Jackass film was great, the stunts were insane, not too disgusting and actually were pretty original. But with this one, you can see early signs of the Jackass crew starting to lose its touch. As the franchise went on, it became more about gross out stunt than anything and there's nothing here to really give fans of the show any worthwhile viewing experience. I really don't see why this footage wasn't included in the deleted scenes section of the DVD. Released as a film, it's pretty pointless. As the fact that the stunts are very hit and miss, and tend to miss more times than succeed. I think it's too bad. With Jackass 2.5, this was where it got unfunny for me. The third film was decent, but it relied more on gross out humor than anything and it really didn't payoff. Stick with the first Jackass film and view the second film, but go into this one and the third film expecting a hit and miss affair. Jackass 2.5 would have worked better as a collection of extras instead of a release and you can clearly see why many stunts didn't make the second film, which was entertaining and fun.
½
Falls a bit short as compared to the hilarity of Jackass 1 and 2, but still very entertaining and fun to watch. I've always been a big fan of the Jackass gang though, so I love pretty much everything they've ever produced. Therefore, my rating for this is to be considered a bit more generous than that of the average joe.
½
I think it's more of a lost special features disc than actual movie. It does have some really funny skits, mainly Fat Man King Kong, but I don't think it should have been released separately. That being said, if you love the show and the movies it's completely worthwhile and necessary.
Conner Rainwater
Super Reviewer
Jackass 2.5 Quotes
There are no approved quotes yet for this movie.