Jackass 3
(2010)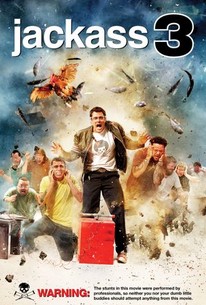 TOMATOMETER
AUDIENCE SCORE
Critic Consensus: The Jackass gang might be running out of gross-out stunts, but this installment contains plenty of brilliantly brain-dead comedy -- and the 3-D adds a pungent new dimension.
Movie Info
Johnny Knoxville and his buddies are up to their daredevil comic antics again. And this time they're coming at ya' in 3D.-- (C) Paramount
News & Interviews for Jackass 3
Critic Reviews for Jackass 3
Audience Reviews for Jackass 3
½
I pop this into my DVD player every four months. It's a film with a definite audience, and if you're not a part of it, stay far, far away.
Kevin Cookman
Super Reviewer
½
If ANYBODY believes that dirty sanchez is anywhere near as good as the Jackass saga then they are wrong... Jackass show there pain in a funnier way and the reactions makes us laugh until are stomach crack under the pain, where as dirty sanchez just hurt each other and the reactions are just swearing.
Scott Green
Super Reviewer
½
Chris Pontius: That had it all - it had danger, it had shit, it had puke, I mean that's what this show's all about.  "Do not attempt this at home." Jackass is heaven for people who love watching people do crazy shit. This is for all those people out there that love getting their friends drunk and seeing what stupid stunts they will do. The movie is full of the Jackass norms, there's bulls, snakes, piss, shit and other stuff you just don't want to talk about. If you like the show and liked the previous two movies, there is no reason you shouldn't like this one. Sure, it is the same exact thing, but it just never gets unfunny.  The movie has a few new favorite Jackass moments for me. There is the stunt where Knoxville gets laid out by Jared Allen. Before it, Allen is asked what his job is and to this says, "To murder Knoxville's face!" Another new favorite is the midget fight in the bar; fucking hilarious. And last but not least, I loved the Grandpa segment, where Knoxville makes out with his supposed granddaughter. All I have to say is that is one sexy granddaughter they got to play that part. A lot of the stunts are repetitive. Yeah, they get Bam with snakes again. But what makes it still funny is that they take stunts they've done in the past and just make them crazier or grosser somehow. God, the Sweat Cocktail almost made me puke. A majority of people who are out of twenties aren't going to like this form of bodily humor. It's gross and it's dangerous, but who cares, because more importantly, it's funny. R.I.P. Dunn
Melvin White
Super Reviewer
Jackass 3 Quotes
There are no approved quotes yet for this movie.