Jackass 3.5
(2011)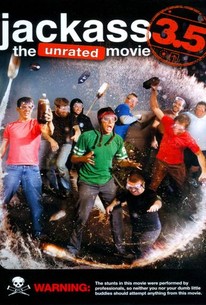 Movie Info
Consisting primarily of footage filmed along with the stunt for Jackass 3, the direct to video Jackass 3.5 features Johnny Knoxville, Bam Margera, Chris Pontius, Steve-O and the rest of the game performing painful stunts and practical jokes that stretch the boundaries of good taste.
News & Interviews for Jackass 3.5
Critic Reviews for Jackass 3.5
Audience Reviews for Jackass 3.5
Stupid boys movie that I never would have picked by choice. Initial tedium gave way to revolted "car crash" viewing, but I certainly wouldn't say I liked it. In particular the idiot who pulls out one of his front teeth and the super gluing to each other. Honestly think these guys are pretty stupid. Yes, they are making money off it, but a lot of this stuff is really dangerous and unhygienic.
Nicki Marie
Super Reviewer
With Jackass, most people know what they're getting by now. What I've always loved about this series is how simplistically genius it is. They seem like a bunch of crazy, drunken idiots, but they actually plan and put a lot of work into each and every stunt. What I like about 3.5 is that for the first time, they really show you what's going on behind the scenes. They show you what it's like to be on the set and what goes into the things they do, with in depth interviews, and behind the scenes footage. They also start to go into a different direction, going from the usual stunts and gross outs to pranks and practical jokes, which are utterly hilarious. This is billed as the direct-to-video extra scenes movie, but it's actually a lot more and I really enjoyed this one a lot more than Jackass 3D.
Todd Smith
Super Reviewer
½
Similar to Jackass 3D, but with more commentary on the stunts.
Shawn Ewing
Super Reviewer
Jackass 3.5 Quotes
There are no approved quotes yet for this movie.