Jackass Presents: Bad Grandpa
(2013)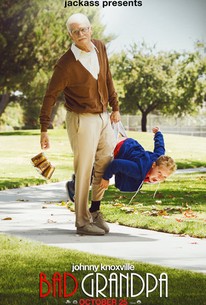 TOMATOMETER
AUDIENCE SCORE
Critic Consensus: Never quite as funny as it wants to be, Jackass Presents: Bad Grandpa still offers viewers the timeless pleasures of seeing an old man get his privates stuck in a vending machine.
Jackass Presents: Bad Grandpa Photos
Movie Info
86 year-old Irving Zisman is on a journey across America with the most unlikely companion, his 8 year-old Grandson Billy in "Jackass Presents: Bad Grandpa." This October, the signature Jackass character Irving Zisman (Johnny Knoxville) and Billy (Jackson Nicoll) will take movie audiences along for the most insane hidden camera road trip ever captured on camera. Along the way Irving will introduce the young and impressionable Billy to people, places and situations that give new meaning to the term childrearing. The duo will encounter male strippers, disgruntled child beauty pageant contestants (and their equally disgruntled mothers), funeral home mourners, biker bar patrons and a whole lot of unsuspecting citizens. (c) Paramount
News & Interviews for Jackass Presents: Bad Grandpa
Critic Reviews for Jackass Presents: Bad Grandpa
Audience Reviews for Jackass Presents: Bad Grandpa
½
Many people essentially hate the premise of "Jackass" but love the execution, and for those lone souls, "Bad Grandpa" will be all you hoped for, and so much more. The pranks were always my favorite part of the show and the films, and the ones featured here are gut wrenchingly perfect. Knoxville and Nicholl troll a beauty pageant, some workers at a shipping center, random people on the street, and adult book store workers. Jackson Nicholl is going places for sure, and his amazing performance in this film only proves what a realistic actor and comedian he is. It's a rather short film that relies heavily on pranks and shock gags, but always hits its mark with ease, and is just as great as its predecessors.
Spencer S.
Super Reviewer
A drunken, cursing grandfather schlepps his grandson across the country to abandon him with his father. I have to defend why I even watched this film: it was nominated for Best Makeup, and I watch all the nominated films if I can. First, it's just not funny. It's mean. A man exposing his sagging balls to a group of women, trying to ship a child in a box, or entering his grandson in drag in a beauty pageant all fail to garner any laughs. In fact, people treated others disrespectfully shouldn't be entertaining. Second and more importantly, this is not satire. It's a practical joke put to film. Practical jokes can be funny between friends, but I don't want to be friends with Johnny Knoxville; he's not friendly. However, this genre, prank films, can be excellent satire like Borat and Bruno. Both are very funny and substantive satires about American society and prejudice. Borat, the character, disarms people, allowing their racism, sexism, and social norm-slavery to come to the fore. Bad Grandpa doesn't even approach these goals. Overall, I hope this is the last Johnny Knoxville film the Academy chooses to recognize because I don't think I can sit through another one.
Jim Hunter
Super Reviewer
½
Jackass Presents: Bad Movie. Utterly cringe-worthy.
Christian C
Super Reviewer
Jackass Presents: Bad Grandpa Quotes
| | |
| --- | --- |
| Billy: | Grandpa! Were have you been?! |
| Billy: | Grandpa! Were have you been? |
| | |
| --- | --- |
| Billy: | Grandpa, you sharted! |
| | |
| --- | --- |
| Irving Zisman: | [Looking at Billy] Your a pretty little girl you hear me! |
| Irving Zisman: | You're a pretty little girl you hear me! |
| | |
| --- | --- |
| Billy: | i'm gonna call you cinnamon. |
| Billy: | I'm gonna call you cinnamon. |