Jackass - The Movie
(2002)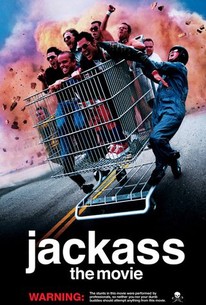 TOMATOMETER
AUDIENCE SCORE
Critic Consensus: There's a good chance you'll be laughing hysterically at one stunt, but getting grossed out by the next one in this big screen version of the controversial MTV show.
Jackass - The Movie Videos
Jackass - The Movie Photos
Movie Info
Johnny Knoxville and his crew of fun-loving masochists bring their routines to the big screen in this feature adaptation of the popular but controversial MTV series Jackass. A crew of young men perform a variety of strange, painful, and often humiliating stunts for the amusement of themselves and those around them, including crawling across dozens of mousetraps while wearing rodent make-up, being rolled down bowling lanes on skateboards, racing in golf carts across an ancient driving range, giving themselves self-inflicted paper cuts, making snow cones out of urine, tightrope walking over live alligators, using uninstalled sanitary plumbing in a hardware store, terrifying Japanese pedestrians while wearing panda costumes, and much, much more. Johnny Knoxville, the show's creator and star, returns to head up this movie version of Jackass, along with series regulars Bam Margera, Ryan Dunn, Chris Pontius, Steve-O, Dave England, Jason "Wee Man" Acuna, Preston Lacy, Ehren McGhehey, and Brandon DiCamillo; Henry Rollins, Tony Hawk, and Spike Jonze are among the movie's guest stars. ~ Mark Deming, Rovi
News & Interviews for Jackass - The Movie
Critic Reviews for Jackass - The Movie
Audience Reviews for Jackass - The Movie
½
A hysterical and energetic film, but not for everyone as it is quite revolting at times. If your not squeamish and in the mood for comedy you'll love this.
Directors Cat
Super Reviewer
½
Jackass humor = my kind of humor. I love everything this gang has ever made, even if some gags are flat-out distasteful. This first film isn't as ingeniously funny (or well-planned for that matter) as number two and three, but it's still very entertaining and has some pretty epic moments.
½
The first Jackass film is one of the craziest comedies that I've seen. The big screen debut of TV's hit show, Jackass brings to the screen the cast of professionals from the hit tv show doing what they do best= stupid stunts. In this film they have more liberties to do the stunts that they couldn't do on the show and it delivers in spades. Right from the opening of rent a car crash derby to it's final stunts, Jackass: The Movie is one funny ride. Fans of the show will be pleased because the boys do even more extreme stunts this time around. Sure this is a stupid film, but it's also mindless fun. There are some unfunny bits too here, Preston Lacy and Wee Man were never funny to me and they always do something that doesn't make me laugh. But the rest of the cast deliver the laughs. Jackass is exactly the type of film you watch with friends and you definitely have a few good laughs as you see these guys attempt the stupidest stuff you've ever seen. It's pretty funny how we see grown men do this. Jackass The Movie will never be considered a classic, but it should be seen as a mindless form of comedy, a film thats very entertaining and a lot of fun. For me this is the funniest one of the three films and theres plenty of humourous bits here to not bw bored out of your skull. This is humour at it's lowest form done by the best, and it's guaranteed to make you laugh or make you smile at very least.
Jackass - The Movie Quotes
There are no approved quotes yet for this movie.