The Jacket
(2005)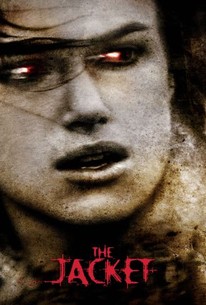 Movie Info
A troubled war veteran tries to unlock his memories of a terrible crime in this stylish thriller, the first American project for British filmmaker John Maybury. In 1991, Jack Starks (Adrien Brody) was an American soldier serving in the Persian Gulf when he was shot in the head; pronounced dead by a field surgeon, Starks somehow returned to life, though with no small number of psychological problems to show for his troubles. A year later, Starks is walking through the snowy Vermont wilderness when he discovers a woman whose truck has broken down, Jean (Kelly Lynch). Starks tries to help Jean and her young daughter, and later flags down a car for a ride into town; however, the car is being driven by a criminal on the run from the police (Brad Renfro), and not long after the car is cornered by police, Starks' memory goes blank. When he comes to, Jack is accused of killing a patrolman in the violent standoff that followed, and is told that the woman, her daughter, and the criminal existed only in his imagination. Declared insane in his murder trial, Starks is sentenced to a mental institution run by Dr. Becker (Kris Kristofferson), who seems to believe that the more brutal the treatment, the better. As Starks suffers frequent beatings and long spells in a frozen locker, his mind drifts from his harrowing past into the future, where he visits with Jackie (Keira Knightley), who once was the young girl Starks tried to help. The Jacket also features Jennifer Jason Leigh as Dr. Lorenson, a compassionate doctor who tries to help Starks and his fellow patients.
Critic Reviews for The Jacket
Audience Reviews for The Jacket
The film has an intriguing idea but takes too long to finally kick in, which is something that ought to be a bit exasperating for some viewers, and it almost gets ruined by a silly ending that tries too hard to be optimistic against any logic left, even if the actors do their best to sell it.
Carlos Magalhães
Super Reviewer
½
An Iraq war veteran sent home with serious head trauma is convicted of a murder he does not remember committing. While enduring an experimental "treatment" at the hands of a sadistic doctor, he suddenly finds himself somewhere and somewhen else. This off beat sci-fi fantasy has a lot of elements of familiar wish-fulfilment and time travel stories. His romance with emotional burn out Keira Knightley reminded me a little of Eternal Sunshine, the meddling with time aspect is very like The Butterfly Effect and the whole time travel/mental hospital scenario is very Twelve Monkeys. The thing that makes this film is the combination of great performances and the way that although it feels a little generic, it continually hops between those genres without feeling disjointed which keeps the story intriguing right til the end. Adrien Brody is excellent as the long suffering patient, as is an almost unrecognisable Daniel Craig as his Cuckoo's Nest style confidante. There are some nice visual flourishes and the direction is nice and tight, the film far from outstaying its welcome. I quite enjoyed the darker aspect of The Butterfly Effect and this film does something similar with a more mature approach.
½
Pretty interesting time travel film that refuses to explain its own logic. After a head injury during operation desert storm a soldier is close to death. After his return to the US he gets mistaken for a killer and hospitalized in a mental asylum. Each time he gets a special medication and the straight jacket he jumps forward in time, soon learning about his ultimate fate. Brody makes for a convincing unlikely hero, but the most pleasant surprise of the cast is Knightley who does not remind you of her Pirate princess even once and delivers a great performance. The script may not always make all that much sense, but the story is enthralling and keeps you wondering how it's all gonna play out. In the genre of the mind-fuck movies this does belong to the upper half.
The Jacket Quotes
| | |
| --- | --- |
| Jack Starks: | Sometimes life can only really begin with the knowledge of death. |
| | |
| --- | --- |
| Jack Starks: | Sometimes I think we live through things only to be able to say that it happened. |