Jackie Brown
(1997)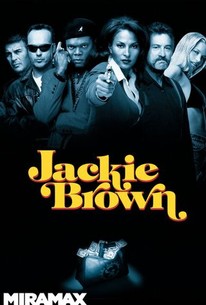 TOMATOMETER
AUDIENCE SCORE
Critic Consensus: Although somewhat lackadaisical in pace, Jackie Brown proves to be an effective star-vehicle for Pam Grier while offering the usual Tarantino wit and charm.
Movie Info
Quentin Tarantino wrote and directed this adaptation of Elmore Leonard's 1995 Rum Punch, switching the action from Miami to LA, and altering the central character from white to black. Ruthless arms dealer Ordell Robbie (Samuel L. Jackson), who lives with perpetually stoned beach-babe Melanie (Bridget Fonda), teams with his old buddy Louis Gara (Robert De Niro), just released from prison after serving four years for armed robbery. ATF agent Ray Nicolette (Michael Keaton) and cop Mark Dargus (Michael Bowen) bust stewardess Jackie Brown (Pam Grier), who was smuggling money into the country for Ordell. Ordell springs Jackie, but when middle-aged bail bondsman Max Cherry (Robert Forster) picks her up at the jail, he's attracted to her, and they choose a romantic route with detours. Mistrust and suspicions surface after Jackie pits Ordell and the cops against each other, convincing Ordell that she's going to double-cross the cops. Tarantino commented on the film's budget: "Jackie Brown only cost $12 million. You can't lose. You absolutely, positively can't lose. And you don't have to compromise." ~ Bhob Stewart, Rovi
News & Interviews for Jackie Brown
Critic Reviews for Jackie Brown
Audience Reviews for Jackie Brown
½
Not Tarantino's best work but still an enjoyable homage to blaxploitation with a welcome comeback by Pam Grier - and although this solid crime movie has charm and style, it is also a bit overlong and could have had a few scenes left out in post-production.
Carlos Magalhães
Super Reviewer
Tarantino's best character piece.
½
Aging flight attendant Pam Grier is caught between the police and ruthless gun runner Samuel L. Jackson and enlists the help of bail bondsman Robert Forster to scam half a million dollars in the process. Jackie Brown was met with a level of disappointment when it was released; yes it had the cool ensemble cast, excellent retro soundtrack and prolific use of the "N" word, but where were the violence, idiosyncratic characters and quirky comic dialogue we were all expecting? But the fact is, Jackie Brown is by far the most mature film Tarantino has made so far. The dialogue is more naturalistic, the characters believable and well written, and the statuesque queen of blaxploitation, Pam Grier proves that the years have in no way diminished her charisma and sex appeal. She gives a sensitive, layered performance of a woman who is full of confidence on the surface, masking an underlying fear of a wasted life; her relationship with Forster is full of warmth and sincerity rather than the contrived romantic bullshit you find in most Hollywood thrillers. Jackson is also fantastic as the cold as ice killer and they spark off each other brilliantly. This film is easily Tarantino's most low key and mainstream, but this most definitely is not a bad thing and deserves to be revisited by anyone who felt that disappointment the first time around.
Jackie Brown Quotes
| | |
| --- | --- |
| Ordell Robbie: | And let me tell you something about my lawyer. This brother's name is Stassen Gowens. |
| | |
| --- | --- |
| Ordell Robbie: | Look, I hate to be the kinda nigga does a nigga a favor, then, BAM!, hits a nigga up for a favor in return. But I'm afraid I gots to be that kinda nigga. |
| Beaumont Livingston: | Whatchu mean? |
| Ordell Robbie: | I need a favor, nigga! |
| | |
| --- | --- |
| Ordell Robbie: | Is she dead? Yes or no? |
| Louis Gara: | Pretty much. |
| | |
| --- | --- |
| Ordell Robbie: | You can't trust Melanie, but you can trust Melanie to be Melanie. |