Jack's Back
(1988)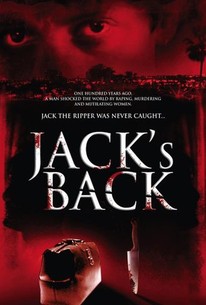 Movie Info
The "Jack" who's "back" in this contemporary chiller is none other than Jack the Ripper. The scene is Los Angeles: the time is August of 1988, exactly 100 years after the Ripper's original reign of terror in Whitechapel. When several LA prostitutes turn up murdered and disemboweled, young physician James Spader is accused of emulating Spring Heel'd Jack. Before the film is half over, Spader is killed, and so far as the police are concerned, the case is closed. But then, Spader's twin brother appears on the scene, determined to track down the genuine culprit (if it doesn't turn out to be him, that is!). Handled with restraint, Jack's Back covers much of the same ground as the classic Robert Bloch tale Yours Truly, Jack the Ripper," though its crucial plot twist is a tad more clever (if a bit silly out of context).
Critic Reviews for Jack's Back
Audience Reviews for Jack's Back
Sometimes there is a forgotten gem of a horror film that resurfaces and manages to grab your attention; in the case Jack's Back it is very much the case. This is a well crafted horror film that boasts elements of crime and thriller films and the result is a truly unique film with some very good performances. The beauty part about the film is that it has much more mature elements than your standard Slasher film. The acting here is quite good and there is genuine tension in many scenes. Films in this genre are rare because they don't just feature mindless killing, and it adds much depth and suspense to the story and film. Slasher films are great fun, but they're even better when they have a well executed script, good performances and terrific kill sequences. Halloween, Black Christmas and Just Before Dawn are prime examples of such movies that successfully used suspense in the plot to elevate the film from just another Slasher film. The result is an impressive feature that is sure to thrill diehard genre fans that enjoy finding forgotten films that are at times better than most of the standard films in the genre. James Spader does some fine work here, and he is well suited for the part he plays. If you're looking for a well crafted horror Jack's Back is one of those films that is worth seeing, and merits to be rediscovered by horror enthusiasts due to the fact that it's a tense, smart and above all memorable outing that stands as one of the most impressive Slashers due in part to its well written script, genuine scares and well paced tension.
Yet another thriller about a possible Jack the Ripper type killer. Spader does a good job as usual, but he's surrounded by bad actors and a predictable story. Overall, it's okay, but not good.
James Spader is the best thing about this movie.
Anthony Valletta
Super Reviewer
Jack's Back Quotes
There are no approved quotes yet for this movie.