Jailhouse Rock
(1957)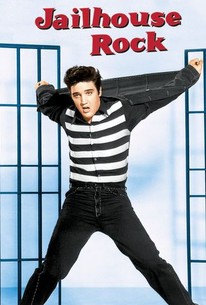 Movie Info
One of the best of Elvis Presley's pre-Army films, Jailhouse Rock offers us the sensual, "dangerous" Elvis that had won the hearts of the kids and earned the animosity of their elders. Presley plays a young buck who accidentally kills a man while protecting the honor of a woman. Thrown into prison, Elvis strikes up a friendship with visionary fellow-con Mickey Shaughnessy. Shaughnessy suggests that Elvis perform in the upcoming prison show. Ol' swivel-hips scores a hit, and decides to stay in showbiz after his release. Together with pretty Judy Tyler (the former Princess Summerfall Winterspring on Howdy Doody, who would die in a horrible traffic accident shortly after completing this film), Elvis sets up his own record company. Alas, success goes to his head, and soon Elvis plans to ditch Tyler in favor of signing with a big-time label. Shaughnessy shows up long enough to punch out Elvis for his disloyalty; as a result, Elvis' vocal chords are damaged and he is unable to sing. Deserted by his flunkeys and hangers-on, Elvis learns the value of friendship and fidelity when Tyler and Shaughnessy stay by his side in his darkest hours. His voice restored, Elvis climbs back up the charts--but this time, he's a much nicer fellow, and a lot more committed to Tyler. Usually the musical numbers in a Presley picture (this one has a doozy, complete with chorus boys dressed as convicts!) are more compelling than the plot. Jailhouse Rock is a perfect balance of song and story from beginning to end; seldom would Elvis be so well showcased in the future. ~ Hal Erickson, Rovi
Critic Reviews for Jailhouse Rock
Audience Reviews for Jailhouse Rock
½
Along with King Creole Elvis' best film, admittingly not a high bar to crest, he is in prime condition and great voice. Very sensual and surrounded by a quality production Elvis turns in a good performance as a surly up and comer. A film with an actual story unlike his later movies like Spinout or Harum Scarum this gives you an idea what kind of actor he might have become if the Colonel had not thrust him into one piece of junk after another. Judy Tyler although her part is limited gives a performs well as a self possessed young woman who helps put Elvis on the road to success, sadly she died in a car wreck before the film's premier.
½
This is my favourite Elvis movie, the story is cool and more realistic than his other movies. Plus, I love the songs. If you only see one Elvis movie, see this one.
Fantastic movie musical, even showcasing some great acting talent from The King.
Tim Salmons
Super Reviewer
Jailhouse Rock Quotes
There are no approved quotes yet for this movie.