Jane Eyre
(1997)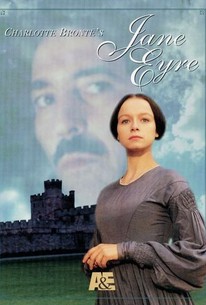 AUDIENCE SCORE
Critic Consensus: No consensus yet.
Movie Info
This made-for-TV feature was the tenth screen adaptation of the classic Gothic romance by Charlotte Bronte. Jane Eyre (Samantha Morton, who two years later would earn an Oscar nomination for her performance in Woody Allen's Sweet and Lowdown) grew up an orphan under trying circumstances, but through hard work and determination, she has gained an education and is employed as a governess at the Thornfield Hall estate. Jane quickly falls in love with the brooding and secretive owner of Thornfield, Mr. Rochester (Ciaran Hinds). He soon falls for her as well, but before they can reach the altar, a number of shocking secrets threaten to destroy their romance. This version of Jane Eyre made its American debut on the A&E Cable Network.
Audience Reviews for Jane Eyre
½
Baahhh So Bad! I dont know I just really did NOT like this version AT ALL. Iit was most do to the two leads. Samatha Morton and Caran Hinds...They just did not mesh well in my oppion and did not to a very good job of acting...Skip this one unless you are very very bored.
Morgan Salem
Super Reviewer
[font=Century Gothic]"Jane Eyre" starts out with the title character as a girl being sent to a downscale school by her cruel relations for the crime of being strong willed. Despite a typhus epidemic and the death of her only friend, Jane Eyre(Samantha Morton) thrives there and is eventually promoted to teacher. Seeking to see more of the world than a grubby little school, she places an advertisement seeking employment which is answered by Mrs. Fairfax(Gemma Jones) to be a governess to Adele, ward of the mysterious Edward Rochester(Ciaran Hinds) at Thornfield Hall.[/font] [font=Century Gothic][/font] [font=Century Gothic]The only other version of "Jane Eyre" that I have seen was the 1944 version starring Orson Welles and Joan Fontaine(not counting the plot points that were recalled in the wonderful novel, "The Eyre Affair" by Jasper Fforde) but this made for television version does seem rather pedestrian with some lapses in acting. Gemma Jones does a fine job but Ciaran Hinds does seem surprisingly somewhat miscast. But Samantha Morton singlehandedly raises the film to respectability.[/font]
½
Jane Eyre was a movie which I would like to watch again. It was a great novel and filmed beautifully. I liked the characters, Samantha Morton was the perfect Jane, she was reserved but nice. Ciaran Hinds brought the character of Mr. Rochester alive. He was a stiff man in the beginning but then surprised me when he turned to be a passionate man. These kinds of movies I love to watch, it just kept me interesting in watching. Beautiful movie, I really love it.
Daisy Maduro
Super Reviewer
Jane Eyre Quotes
There are no approved quotes yet for this movie.